On 11 March, a special Community Council meeting took place to discuss the proposal by Dawnfresh Farming Ltd. to install a trout farm in Loch Long by the shores of Ardentinny.
The meeting was opened by Dawnfresh Farming Director, Alison Hutchins, who explained that they were in the very early stages of community consultation and that the purpose of the meeting was to gauge Impressions; impart information; and listen to the public's comments and concerns. She went on to describe Dawnfresh as being the largest trout farming company in the UK, producing some 8000 tonnes for both the uk and export markets and looking to grow, with the Ardentinny site being one of 4 proposed new farms in and around the Firth of Clyde.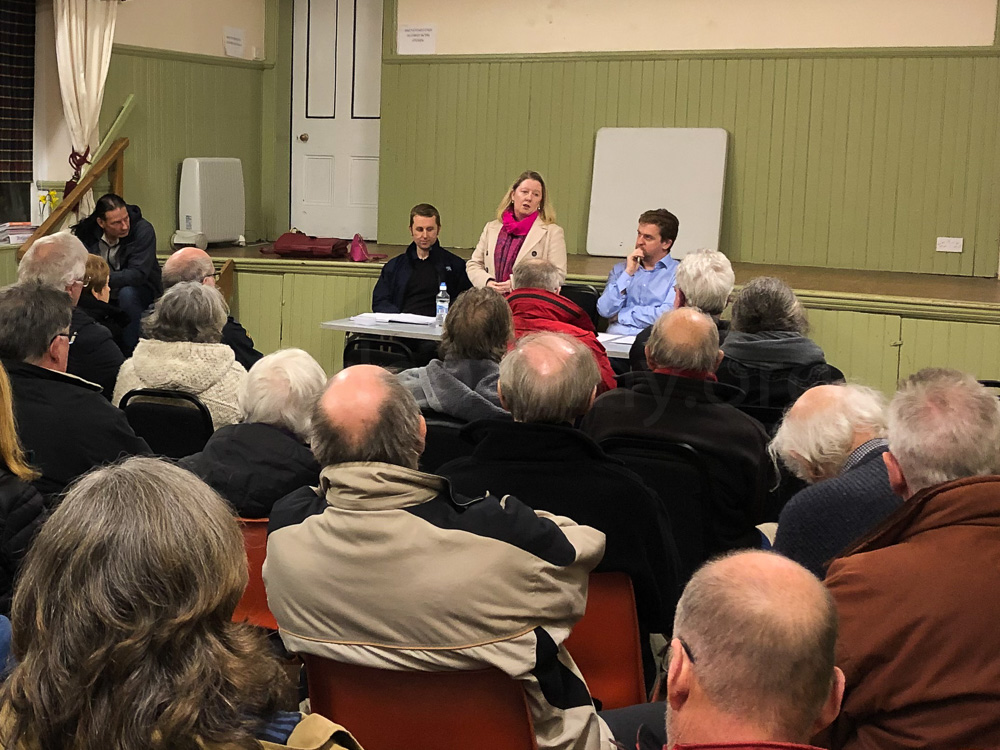 Environmental Manager, Peter McDougall then went on to describe the proposed site location etc. inviting those present to view site maps he had brought along. He said they had undertaken computer modelling; seabed sampling; and wind and wave analysis and all suggest that it is a good site for farming trout. He stressed again that they are at the beginning of the planning application process, gathering opinion so that they can deliver "a site that will suit Ardentinny and not just something standard". He said that there are 3 things the project requires to go ahead: 1. A CAR licence from SEPA; 2. Planning Permission; 3. A Marine Licence from Marine Scotland. All will be available for public comment and all will be advertised, as follows:
"The CAR licence application is advertised on the SEPA website, in the Edinburgh Gazette and in a local paper which in this case will be the Dunoon Observer.
The Planning permission will be advertised on the Loch Lomond and Trossachs National Park Planning Portal and in the Dunoon Observer.
The Marine Licence application will be advertised in the Dunoon Observer"
While they have submitted the CAR licence application, when we asked how we might find it on the SEPA website, Peter responded:
"The CAS scheme only relates to operational farms therefore only our existing farms have publicly available information on this sampling. Prior to developing a farm a baseline survey is undertaken and this is taken in a similar manner to the samples under CAS, i.e., grab samples of the seabed. The survey is submitted as part of the CAR licence application alongside the modelling report, hydrographic report, and video survey and report. These reports are with SEPA at the moment for consideration and once SEPA confirm all information is present and correct they will be published on the SEPA website https://www.sepa.org.uk/regulations/consultations/advertised-applications-under-car/ and the application will be advertised."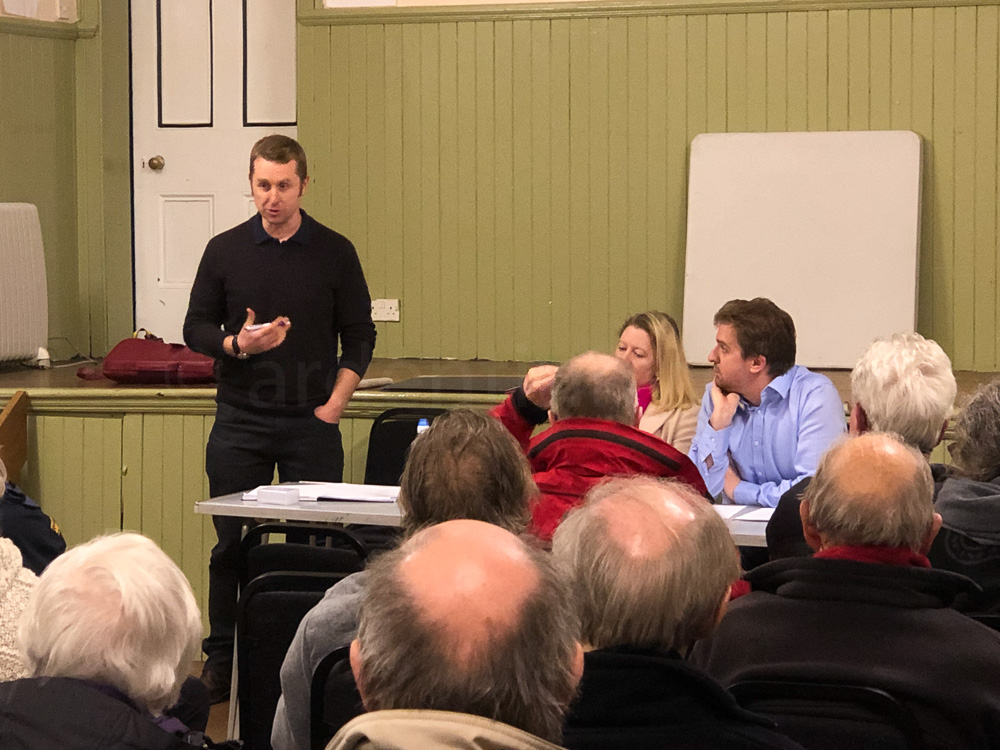 After outlining the potential benefits of 6 jobs and additional work for service providers; support for community groups; help with moorings, beach cleans etc. Peter invited comments and questions from the floor. They were many, varied and insightful.
On predation…
Why choose a known spot for seals?
What would be done about them?
Would they be shot?
If acoustic deterrents were used they could stop seals coming to pup on the shore and negatively affect other sea mammals.
Dawnfresh responded by saying that while the RSPCA requires them to have a licence to shoot seals, they have not shot a seal since 2015 and have no intention of shooting seals. They consider that seals and fish farms can and do happily coincide, citing their Loch Etive farms as an example, and that a more effective form of control is the use of best quality nets.
On sea lice controls and consequences…
Some salmon farms use cleaner fish to deal with sea lice. Would that happen here?
Apparently, cleaner fish would not be used, as they carry a disease to which rainbow trout are susceptible. Instead they would be treated by a number of different measures. The Dawnfresh representatives could not recall the name of the 'medicines' used to treat the fish nor how often it is used. It is given in their feed or in shallow baths in the water and through the CAR licence process SEPA determines how much can be used. There are also other options such as hydrolysine and thermolysin. It was suggested from the floor that having the fish in tanks onshore could avoid the problems of predation and sea lice. This was considered to be financially non viable. In response to another question, fish mortalities would not go to landfill but would be collected by a contractor and the waste product sold on for use in such things as cosmetics etc.
On environmental concerns…
Several people expressed their concerns about effluent from the farm being washed up by the tide to Ardentinny bay and beach where children and animals play and swim and where visitors to the outdoor centre sail and canoe. Also that there was insufficient tide to take away the lice or treatments which could affect the seals, cormorants and other wildlife. It was pointed out that being in the Loch Lomond and Trossachs National Park, we had a duty to ensure that whatever we do is environmentally sound.
In addition, while tidal flow is very small, the area occasionally experiences huge tidal surges. The last one, approximately 20 years ago, washed the Gairletter caravans into the Clyde and flooded the Ferry house, resulting in a planning application for houses on the shore side of the Swedish houses being denied due to the risk of flooding. The damage that such a surge would cause to the fish farm pens and fish is unthinkable.
Asked what additional traffic impact there would be on the single track road, there was an assurance that this would only be the cars of the 6 staff with all other necessary transport coming by sea.
One resident remarked that Ardentinny was essentially a tourist village where people come to camp and enjoy the wildlife and general beauty of the place and the sight of an industrialised fish farm would have a negative visual impact. Another commented that growing fish beside a nuclear weapons store would not be a strong selling point.
On the bigger picture…
The potentially negative impact of having 3 other farms at a narrow end of the Clyde did not go unnoticed. It was suggested that any fish coming in from the Atlantic are going to pick up lice from these farms on their way to the river Leven and Loch Lomond beyond. Another posited that no fish would pass the sites and render the area barren.
When asked for a show of hands at the end of the meeting, 4 out of an audience of 62, indicated that they were in favour of the proposal.
When invited to comment on the meeting and in the light of that result, Peter McDougall said:
"We stand by our decision to engage with local people in Ardentinny early in what is a very complicated process in seeking permission for a trout farm near Ardentinny. As we often see when engagement is started early, there were a number of concerns expressed by people at the meeting because there are so many unknowns at this stage, but we were delighted to see people come out in such strong numbers which shows the level of interest. We will spend the coming months speaking with local people, giving them access to different experts and hopefully having them visit our existing site at Loch Etive to build confidence in the proposals, the process and Dawnfresh. We remain fully committed to the potential of a trout farm near Ardentinny and want to do that with the support of local people."
19 March, 2018: Peter MacDougall has provided the following addendum:
The SEPA application has been submitted and includes modelling for the medicines Cypermethrin, Deltamethrin and Azamethiphos for use at the proposed farm. The confusion during the meeting was down to me attempting to explain that Deltamethrin and Cypermethrin are used routinely in animal medicine for terrestrial farming, that I thought may be more familiar to some of the audience, namely "Spot on" and "Crovect" sheep pour-on respectively. I couldn't remember off the top of my head which way round they were hence the confusion.
Useful links:
EIA Screening documents for installation of fish farm (Loch Lomond and the Trossachs National Park – Planning)