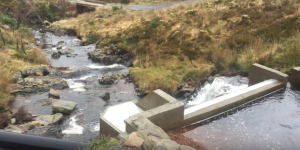 On Tuesday 22 May, Ardentinny Renewables Trust (ART), SCO 47215, held its first AGM in the village hall with an attendance of 25. Douglas Menzies (Chair), Bill Tierney (Treasurer), Neil Robinson (Secretary), Rob Bray, Jeanette Reilly, Kenneth Evans and Jenny McLundie were proposed and seconded as returning trustees for another year.
The Chair reported that Ardentinny's two hydro energy projects, operated by Hydrover are producing a total of 750,000 kw which is the equivalent of the annual electricity supply for approximately 170 homes. In addition there is the scheme operated by local farmer Ross MacArthur.
The projects are required to give 5% of Feed-in Tariff annually to the local community. Therefore ART, established to manage and distribute these funds for community benefit, is about to receive just over £7,000. Lifetime Trust membership is free to all residents (contact ardentinnyreneweablestrust@gmail.com for application details) and qualifies them to apply for Trust funds so long as the project benefits the community. Members will be notified when the funds arrive and project funding applications can be submitted. The secretary will then email members with details of the applications received. Thereafter, the trustees will meet quarterly to consider these and decide on which should succeed.
Project suggestions were invited from the floor and ranged from funding the cleaning of the public toilets; benches along the river walk; folk festivals; a play park at the beach; buying land for housing to attract young families; match funding larger projects; to investing in another village hydro project for a much larger return.
The next AGM will be held in May 2019 and the first quarterly meeting of the Trustees will be in August. Trustee meetings will not be open to the public.