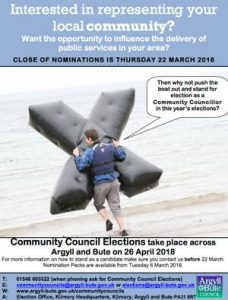 Community Council Elections are taking place for all Community Councils within the Argyll and Bute Area in April 2018. The formal Notice of Election will be advertised week beginning 5 March 2018. Nomination Packs are available here and from local Customer Service points and from the Returning Officer, Kilmory, Lochgilphead PA31 8RT. Please do not submit an application form until the opening of Nominations which is Tuesday 6 March.
The Nomination period will run from Tuesday 6 March to Thursday 22 March 2018 (closing date). Forms must be lodged with the Returning Officer by no later than 4.00pm on Thursday 22 March 2018.
More information is available here.
Source/photo credit: Argyll and Bute Council.