Mr. Ian MacPherson-Blane's 91-year-old mother, Margaret MacPherson has written about her childhood in Ardentinny where she lived for 19 years from 1926. Her parents, Cecilia and Jack MacPherson lived at Seaview Cottage from 1926 until 1954, prior to which they had lived at The Steading.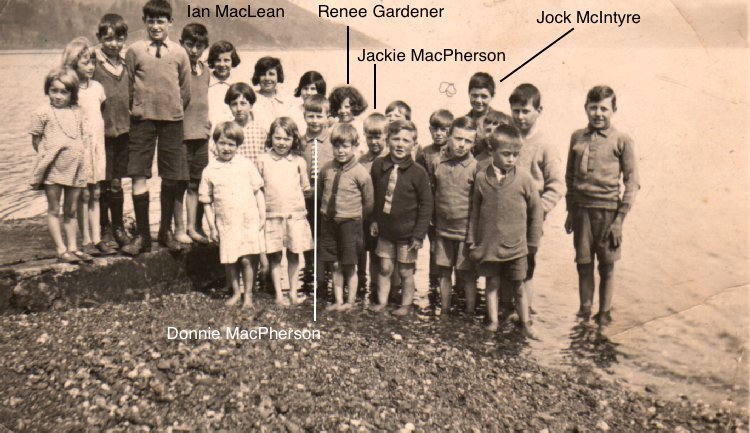 The photograph of schoolchildren at the jetty is c.1929 and Mrs MacPherson started school shortly after it was taken. 10th from the right is Jackie MacPherson, Mrs. Margaret MacPherson's brother; 13th from the right, Donnie MacPherson, another brother; 5th from the right is Jock McIntyre. She thinks 12th from the right is Renee Gardener who was much older than her and who used to wear a lot of makeup.
She recalls she (Margaret) once plucked her eyebrows but didn't say anything and her father looked at her for a while then said "there's something different about you and I don't know what it is but you look like Renee Gardener". Margaret then confessed and got a row. Renee happily married a Commando and had a family. 20th from right is Ian MacLean "who was a nice, quiet lad who was taken prisoner at Dunkirk and at the end of the war died on the long walk home, too malnourished to make it."
Further recollections are that "Jake Cairns, a widower lived in the Octagon (the row of cottages near the jetty) and Glencairn cottages although they let out Glencairn in the summer and lived in the Octagon, moving back to Glencairn in the winter and shutting up the Octagon.
Jack Cairns had two daughters, Nelly and Jenny and a son, Joe, who drowned in the loch as a youngster. They moved to Glencairn and the Octagon from The Bothie at Stronvochlan after Mr Cairns, who worked for the estate, had a heart attack, and lived there rent free, which was most unusual. Nelly married Jake Longmuir who had come from Carluke to Ardentinny in search of a wife after losing his second wife and Mr. Cairns went to live with them in Carluke. Jenny married Tommy Greer and, after working in Edinburgh for a few years, they settled in Newton Stewart.
Next to Glencairn was Blink Bonny but Mrs. MacPherson can't remember the name of the end house (now part of Blink Bonny) although someone called Mrs. Rhodes bought it. She was a widow from England and had a son called John."
We are grateful to Mr. Ian MacPherson-Blane who provided the photograph and his mother's recollections.