Ardentinny Hall Management committee held an open community meeting on 10 October to inform residents on the status of the village hall and to discuss the possible future role of the asset within the community. 
For the moment the committee is keeping the hall 'ticking over', having reopened it for club and other bookings; ensuring that it is cleaned, that regular outgoings are paid; and making the relevant official changes of office bearers.
Management committee member Guy Elder reported on the fabric of the building. The gutters and downpipes were blocked and water is overflowing and seeping into the building and, despite clearing the back and side, the actual source of the ingress has yet to be determined. There are also no obvious drains taking water away but once they obtain field drawings of what drainage exists the committee will then decide what needs to be done before hiring a digger to make the appropriate provision. In the meantime they have applied for a National Park (building) grant to cover the cost. This has successfully reached the second stage whereby a further application has to be submitted by 20 October.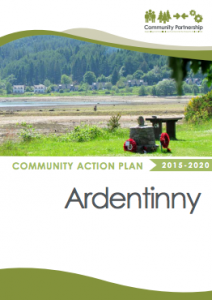 The Chair then referred to the
2015 Community Action Plan
and the likes, dislikes, wants and needs of the residents expressed therein, with a view to discussing if/how the village hall asset might play a part in achieving the community's vision for its future. There were various suggestions from the floor including the need to consult the whole community. This was agreed along with scheduling another open community meeting in the near future.
 
In addition, after many years of charging an annual hall membership fee, it was decided to provide free hall membership to all the community in line with other village halls along 'the shore'.