The weather finally cleared last weekend, not only for the finale of the Cowal Highland Gathering, but also for Ardentinny's chance of getting in the record books!
Simon Penfold and Phil Dye from Gloucestershire were on a mission to climb and measure the tallest trees in Scotland, England and Wales over three consecutive days in aid of Cancer Research. Starting last Friday, and with the climbs at Dunster Estate, Somerset and Powys, Wales successfully completed, the lads headed north for Ardentinny.
The Douglas Fir at the Lairds Grave had already been measured using laser by Forestry Commission Scotland. However, for the height to be validated, the conifer would need to be measured by analogue means, i.e. a measuring tape.
Under surprisingly ideal conditions early on Sunday morning, the two tree surgeons, who operate a recreational tree climbing centre in Gloucestershire, started their ascent. With the aid of the measure, a 3 metre pole and a quadcopter, Simon and Phil completed the flawless climb in exactly two hours.
Simon said afterwards "there was quite a bit of deadwood up there, but also a good amount alive. It was a phenomenal view of the loch. It's now the tallest tree I've ever climbed. The only struggle we had was getting the whisky off the tree!" He was referring to a mystery package left by previous climbers some 60 meters up! It contained three miniature bottles of Campbeltown Loch whisky with the message "Great what you are doing. Here's some Scottish hospitality".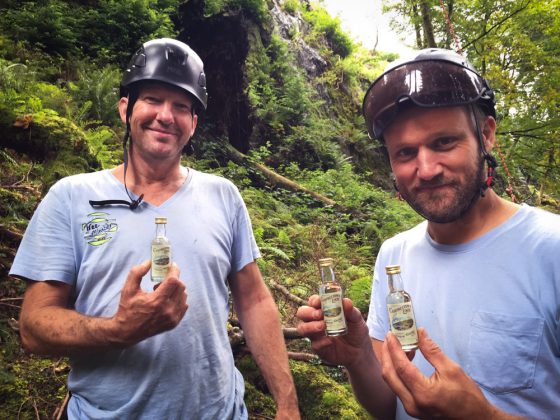 Charitable donations in support of Simon and Phil's weekend climbs have already exceeded their £2000 target for Cancer Research. If you would also like to contribute, click here for their Just Giving page.
So, can Ardentinny claim to have the tallest tree in Scotland, UK or Europe? Watch the video and find out!