Ardentinny Community Trust is pleased to present a wonderful range of weekend events for fans of both the BBC's long running 'Beechgrove Programmme', Ardentinny Walled Garden and Andy McClintock's amazing garden in Strone.
Events commence on Friday 23rd June, at Younger Memorial Hall at Kilmun, open 7p.m. for 7.30pm, with a showing of the BBC's Beechgrove Garden programme featuring the creation of the Sensory Garden in 2013 and selected gardens in Ardentinny and along the Shore.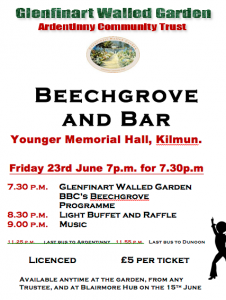 This is followed by a light buffet, raffle and music. There will be a bar throughout.
This great night out has a nominal fee of only £5, tickets are available now from Ardentinny Walled Garden, at the Blairmore Hub on 15th June, or on the night.
Proceeds will benefit the Ardentinny Walled Garden, the Younger Memorial Hall and Ardentinny Bowling Club, who are providing the bar.
Our events continue, with the Walled Garden being open as usual on Saturday and Sunday 24th and 25th from 1.00pm until 4.30pm. Come along and see how our Sensory Garden has grown and matured, since planting commenced in 2013. Bring a picnic and relax in the peaceful surroundings or take away some of the lovely home grown plants, in exchange for a donation. Entrance is Free.
Our final event of the weekend is the kind offering from Andy McClintock to open his beautiful and magical garden on Sunday 25th June, from 1.00pm to 4.30pm at Strone.
for a donation the Walled Garden.
We hope to see you there!