At the April Community Council meeting representatives of the Ardentinny Conservation and Heritage Group outlined some of their future plans. One is to provide planters which will offer edible flowers and vegetables along with recipes, with a view to encouraging people to walk through the village, collect recipes and pick and eat. Another is to help older residents with certain garden maintenance tasks which they find difficult to manage, such as, hedge trimming, strimming etc.
There is also Glenfinart Walled Garden, run by Ardentinny Community Trust,  which has reopened for its spring/summer/autumn season. It is open to the public on Saturdays and Sundays 12.00 – 16.00 hrs and on the first Friday of the month 11.00 – 14.00 hrs. Visitors are also welcome any day the gate is open or, by appointment. All enquiries, requests to visit the Garden and offers of help can be made to Jean on 01369  810075 or Anna on 01369 810238.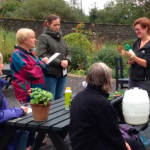 Resident gardener, Franziska, will hold the garden's latest Masterclass on Herbal First Aid and Healing Plants on 17 April, 12.00 – 15.00 hrs.