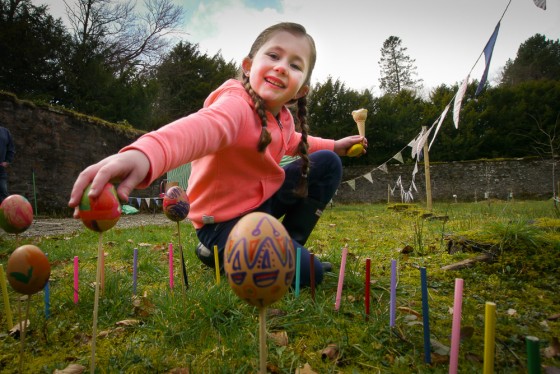 At what has become something of a tradition, Glenfinart Walled Garden held its spring opening in conjunction with Forestry Commission Scotland's Easter Monday Eggstravaganza.
There was free entry to the garden and lots of fun activities for the children, e.g., mask painting; colour a bug glider, egg decoration; coconut shy; and plant a seed in the kids' garden. As ever, the tea tent, with Ardentinny's famous home baking, did a fine trade and a total of £437.92 was raised on the day, courtesy of generous donations of time, goodies and cash.
Glenfinart Walled Garden is open to the public on Saturdays and Sundays 12.00 – 16.00 hrs and on the first Friday of the month 11.00 – 14.00 hrs. Visitors are also welcome any day the gate is open or, by appointment. All enquiries, requests to visit the Garden and offers of help can be made to Jean on 01369  810075 or Anna on 01369 810238.