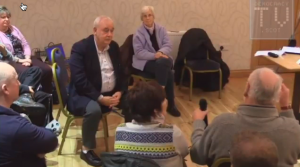 On Friday evening a public meeting was held in Dunoon to discuss the proposed Argyll and Bute Council cuts which will affect everyone in Cowal. Councillors Walsh, McQueen and Breslin were invited to attend. However only Councillor Breslin was present.
The meeting was organised by the Democratic Socialist Federation, a political grouping (not a political party) founded on the principle of 'empowering people to participate in their local area with other like minded people, and to have an effective say in a real democracy'.
More information on the local group is available on the People versus Argyll and Bute Council Administration facebook page.
The event which was livestreamed by DemocracyTV.scot, can be viewed below.
Argyll and Bute Council is encouraging its residents to participate in its Service Choices Survey in order to help it decide on priorities. You can do so by answering the survey questions here.