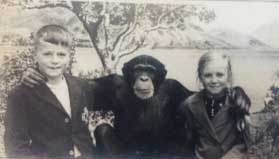 The photograph above of two children and a chimpanzee was provided by Elaine Allan, former owner of Blink Bonny Cottage, Ardentinny.
During renovation of the property some years ago, Elaine found the photograph hanging on a concealed wall. The image shows the children and chimp in front of a painted canvas backdrop of Glenfinart Bay and Shepherds Point. From the style of dress, it possibly dates from the 1950's.
If anyone has any information on who the children are and how the photo came about, please get in touch.