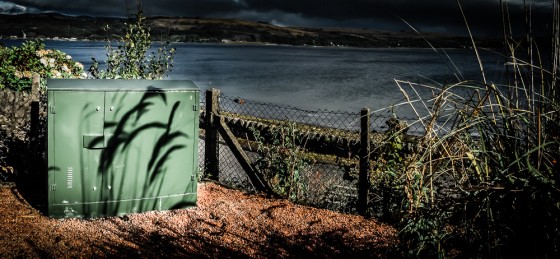 It looks like fibre broadband is finally on its way to Ardentinny. This week, BT Openreach posted the following information on the village notice board:
KN Networks Services on behalf of Openreach will be carrying out works to facilitate the installation of superfast fibre broadband. These works will involve excavating for the installation of a street cabinet and associated underground ducts. We will endeavour to keep walkways and pavements accessible at all times and to ensure the area is safe. The expected duration of works will be approximately ten working days. We apologise in advance for any inconvenience this may cause. Work will commence week beginning 14/9/15 to 28/9/15 in telephone exchange.
The street cabinet at the Ardentinny exchange has already been installed (see photo). To check when fibre broadband will be available, see www.superfast-openreach.co.uk/where-and-when/.