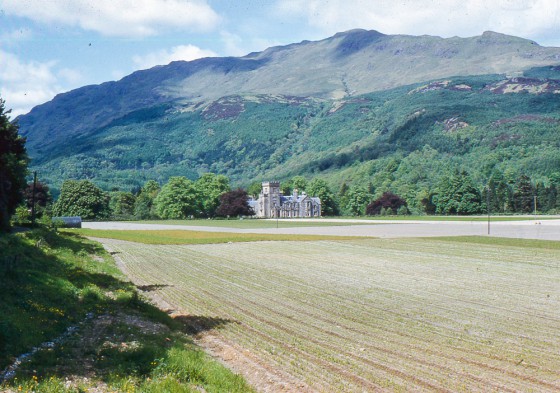 A recent visitor to Glenfinart Walled Garden had a fascinating story to tell. It was only Don Ward's second visit to the village since 1960. On that occasion he was accompanying his mother Helen Bonnieman who had lived in Ardentinny as a child.
Helen was born in 1908 and moved to Ardentinny at an early age when her father, who had previously been a footman at Drummond Castle near Crieff, was appointed butler at Glenfinart House, Ardentinny. The family lived in a cottage at Stronvochlan (see photo below) until after the First World War.
Helen's father was subsequently called up for service in the war and served in the Argyll and Sutherland Highlanders. Helen and her three brothers all went to the village school and thoroughly enjoyed their time there.
On Don's last visit with his mother in 1960, they visited the (then) Ardentinny Post Office which was located at Rock Cottage (see photo). His mother said that the Post Office was exactly the same as she remembered it all those years ago, and with the same owners. Indeed Adult Games, her family had attended the wedding of the postmaster/mistress (most likely the Gardners) some 40 years earlier. At the time of Don and his mother's 1960 visit, the 80+ year old Postmaster was out on his bike delivering the village mail!
We are indebted to Don for allowing us to publish his excellent colour photographs from 1960.