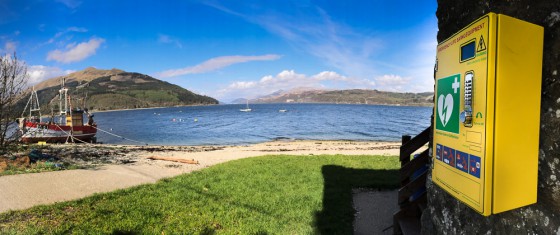 Thanks to contributions from the community and various fundraising activities, Ardentinny now has an Automated External Defibrillator (AED) attached to the wall of the 'Ferry House' at the slipway (opposite Ardentinny Outdoor Centre).
The AED is for public use and has full instructions on its use via a screen and audio. The user simply follows the operating instructions. Training will be provided by a qualified paramedic to interested members of the community. Training times and dates will be confirmed shortly. If you would like to participate in the training, please contact Roy on 0776 929 1411.
The AED cabinet is locked, however all residents have been provided with the numerical code. Code is C01369
A database of automated external defibrillator locations in the UK is available here.