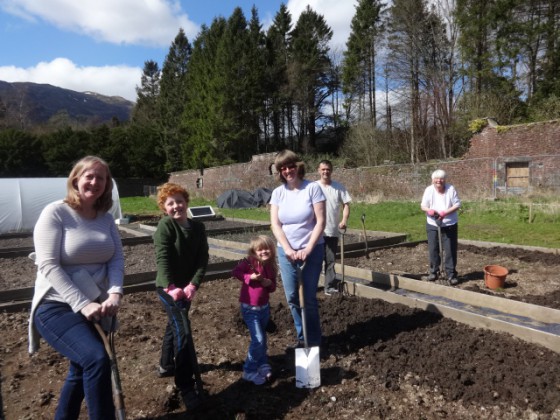 Last Thursday we visited Glenfinart Walled Garden for the first time this year. We were welcomed as usual by the folks already working in the garden. It was Lynns' first time at the garden so she was shown round and saw from the photographs how much the garden has changed over the past few years since the volunteers have taken it over.
Angus was asked would he like to come and help in the garden and was soon planting out peas that had been grown in the poly tunnel with his new friend Kira… they also planted their own sunflowers in pots to take home. Hopefully these will grow as tall as the ones that we saw grown along the side of the poly tunnel last year.
Some of the volunteers were turning over the ground in the vegetable beds and Angus and Kira made themselves useful collecting the weeds for the compost.
By now Angus was beginning to feel quite an expert at gardening so he decided that he would quite like to have a shot at digging over the vegetable beds with a "big spade"…. quite how myself and Lynn found ourselves volunteering to help with this digging we are not quite sure…. perhaps it was the bribe of tea and home-baking or possibly the unexpected heat going to our heads within the shelter of the garden.. but one way or another we found ourselves spades in hand helping to turn over two of the beds ready for planting. Treasure was found in the shape of bits of old crockery, bits of quartz and also seed potatoes left in the ground from last year.
As an experiment it was decided that as the potatoes we were digging up were of a good size and were starting to grow, that they should be moved to this years potato growing bed and that Angus was to plant them. Merle showed him how to hoe the dirt and then cover them over, and explained how they would be watered and earthed up and we would see how well they did over the next season. She wrote out a label for them – Angus' potatoes, and wondered how many people would think that this was a new strain of tatties being grown in the garden. Nikki the dog kept a watchful eye over the proceedings.
The ladies from the Tighnabruach rural arrived to view the garden having just had lunch at Blairmore. They toured the garden then made themselves at home trying out the various seats and benches around the garden and having a good look at all the plants which were also being visited by butterflies and bumblebees.
The ladies had their picture taken by the wishing well then went off to enjoy the rest of their day out. By this time we were more than ready for a cup of tea or juice and to try out the pancakes and fruit loaf on offer!
Suitably refreshed there was time to dig over one more bed before we went for our lunch. We couldn't believe that we had spent almost 4 hours enjoying ourselves! Lynn admitted that she had enjoyed her first lesson in digging but that she wasn't sure that she was going to make a habit of it but felt a sense of achievement after all her hard work, and that she looked forward to seeing how things would grow in the garden.
We had to come back on Friday morning to buy some plants to take home to our own gardens and look forward to seeing them grow, and remind us of our lovely afternoon!
You don't have to take up a spade to enjoy the garden, it's just as nice to have a wander round, so we would recommend that its a great place to visit, for quarter of an hour…. or longer… the time will just fly by 🙂
Fiona, Lynn and Angus.