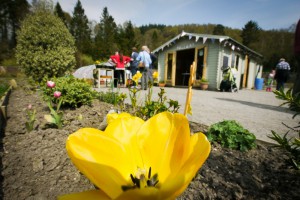 Ardentiny Community Trust (ACT) has been granted renewed funding from The Robertson Trust for Glenfinart Walled Garden's Gardener/Volunteers' Supervisor post, which is currently being advertised.
ACT Treasurer, Dennis Gower said "We look forward to building on the excellent work done by Glyn Toplis which has given us a strong foundation for the future with our sensory garden, orchard and vegetable plots. An important part of the job is the work with volunteers and the training programme which Glyn began."  Full information on the post is available on request by contacting Lynn on 01369 810275 or lkerr172@btinternet.com
Anyone interested in the garden is welcome to come along to its Action Days every Thursday and last Saturday of the month 11.a.m.- 3.p.m. and it will again be participating in the Forestry Commission Scotland's Easter Eggstravaganza on 6th April, providing a great day out for all the family.