Glenfinart Walled Garden was host to Loch Lomond & The Trossachs Community Partnership last Thursday when its new Directors and Staff enjoyed a familiarisation visit to this Ardentinny, community-based project. Their visit comprised a guided tour, some welcome tea and home baking and the all-important expansion of the garden's & Partnership's 'network'.
[smooth=id: 057; width:890; height:650; timed:false; arrows:true; carousel:true; links:false; info:true; align:center; frames:true; open:false; text:Select image;]
Click left/right arrow (or 'select image') to browse images.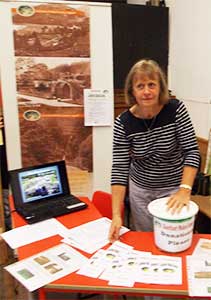 On Saturday members of the Trust manned the Glenfinart Walled Garden stall at neighbouring Blairmore Village's Local Produce Market. Sale of the garden's produce netted £115.50 in addition to much-appreciated donations. At the same time, Trust Secretary, Lynn Kerr represented the garden at Dunoon Burgh Hall's Community Fair. Another excellent networking event!
Glenfinart Walled Garden is open daily from 12-4 p.m. Admission is free and all are welcome.