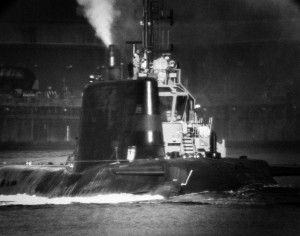 One could be forgiven for thinking that either or both strategies were in play in the Ministry of Defence's handling of a request to attend a community meeting in Ardentinny. The request was the outcome of a Community Council meeting held on 1 April, 2014 during which the alarming blasts, which took place in Coulport in March, were discussed at length along with other issues of concern regarding the RNAD base at Coulport.
During the week of these very disturbing explosions residents telephoned the MoD regularly to enquire and to complain, and by the Thursday Ardentinny.org was informed that RNAD Coulport would now only deal with the MoD-approved community 'conduit' , i.e., Ardentinny Community Council's Convener. Therefore, it was she who, on behalf of the community, made the request for a representative from the MoD to attend a community meeting in which residents could pose their questions.
It was reported at the June Community Council meeting that, said Convener, in an email to the MoD, stated she was 'exceptionally disappointed, dismayed and unbelieving' that the MoD had reneged on a verbal agreement made to attend such a meeting during a conversation which took place on the 2nd April. Instead, in their correspondence in response to the Convener's of the 21 and 28 April, the MoD said it would not be possible to accept her invitation to send representatives to a public meeting, but offered her the opportunity to raise concerns at the annual Clyde Local Liaison Committee (CLLC) meeting on 28 May 2014.
Only one resident (a Community Councillor) submitted questions to the Convener for this purpose. This may have been because others had no questions and/or those who did, wished to pose them directly at a public meeting, as they had requested. The questions conveyed to the CLLC are as follows, along with the responses from person/s unknown (to us):
Q. Recent reports in the press have stated that Coulport MoD Base has asked for approval to increase the amount of radioactive waste discharged into Loch Long; can we have a figure for the amount of such waste presently discharged, showing the frequency of such discharges, at what time of day or month or year this is carried out and what levels of radioactivity are involved?
A. There is nothing discharged into Loch Long.
Q. A very recent report refers to staff shortages at this base; a Ministerial response has revealed that the MoD has vacancies for 97 posts categorised as 'safety critical'. How many of these posts are at MoD Coulport and how many of these are for qualified nuclear engineers and for other qualified personnel who deal with nuclear armaments or radioactive material; for how long have such posts been vacant and how soon may they be expected to be filled?
A. There are no naval vacancies at Coulport.
Q. If none of such posts is related to nuclear operations how many are described as 'safety critical' for other reasons?
A. None.
Q. How often is the testing of Loch Long waters for radioactivity, in the vicinity of Coulport and Ardentinny carried out, at what intervals and where are such test results displayed?
A. Testing is done regularly and everywhere. The Convener was unsure where the results were displayed but it was thought that they may be published on the SEPA website.
Q. We have seen other reports of accidents occurring at Coulport base but the nature of such incidents are not reported; can descriptions of accidents happened during the past year be given to this Community Council so that public apprehension might be lessened?
A. The Convener reported that there had been a long presentation about safety and that they (MoD) dealt with it by ensuring that every incident, however unimportant, was recorded and by controlling such minor incidents in this way it enabled them to control anything more major. She also reported that she had found an open paper on the Internet, the source of which she could not remember, which said that survey results showed there was no radioactive hazard in Loch Long.
Q. Present Scottish Government policy is for the dismantling and ceasing of all operations at Coulport in the event of the September Referendum resulting in a vote for independence; have any timetables and other plans for this eventuality been drawn up and, if so, can such plans be announced to give local communities the opportunity to prepare their own plans for the future environmental and other uses of this area?
A. The British Government in Westminster has not made any plans.
Community Councillor Dennis Gower expressed his disappointment at the responses to his questions, stating that they seemed to be largely opinion rather than fact. On the question of safety, Bill Williamson asked if the MoD had mentioned the emission of radioactive tritium gas from Coulport in their safety presentation. Quoting from a report he said that emissions of the gas have doubled between 2008 and 2012 and are expected to rise further with upgraded warhead designs. Both councillors concluded that the feedback from the CLLC meeting was insufficient and unacceptable.
Argyll & Bute Councillor Gordon Blair then interjected saying that he was very sorry that the Convener had been put in this position by the manipulation of the MoD who had created this situation through their lack of customer service. He reported that when he called to request their attendance at a community meeting he was dealt with rather tersely by the first point of contact. He was quick to point out that they are public servants and it is we who pay their salaries and that he felt they had short-changed us. He said he would be taking it further up the tree politically, but he expressed his regret that the Convener was on the receiving end of the wrath of others due to the MoD not being as customer-focussed as they should be.
The Convener then went on to read aloud correspondence between her and the MoD with the final instruction that if anyone was dissatisfied with this outcome or had any other questions or concerns they were to write to MoD Ministerial Correspondence Unit, 5th Floor, Zone A, Main Building, Whitehall, London SW1A 2HB or email ParliBranch-Treat-Official@mod.uk. However they will not respond by email. Therefore a postal address will need to be provided if you wish to receive a reply.
Related links:
Office for Nuclear Regulation (ONR) Quarterly Site Report for HM Naval Base Clyde 1 Jan 2014 – 31 March 2014
Office for Nuclear Regulation: Quarterly Local Liaison Committee / Site Stakeholder group reports
Safety fears after nuclear bomb store avoids independent inspections