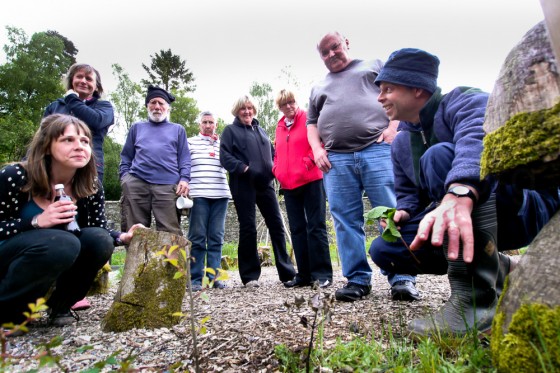 Last weekend a group of Cowal gardeners was treated to a horticultural masterclass courtesy of Glenfinart Walled Garden's resident gardener, Glyn Toplis. The hands-on classes are part of the garden's 'drop-in' days organised by Ardentinny Community Trust to encourage Cowal residents and visitors to participate in its community garden.
Glyn, with his extensive horticultural experience of some 30 years, offered a very useful and entertaining insight into the world of weeds and their control. Walking around the garden, Glyn provided the group with tips on the best ways of eradicating specific weeds whilst considering both the weed above ground and the root system below. He also illustrated how certain plants can be weakened by the weed.
Asked about the composting of weeds, Glyn gave an outline as to which could be composted successfully. He also showed the group samples of plants in and around the walled garden which would have originally been ornamental plants, but now, due to their wild profusion, have become a garden nuisance.
The theme of the next Masterclass at the Walled Garden is 'Summer Flowering Plants' on Saturday 14 June at 2pm. Entry is free and everyone is welcome.
Glenfinart Walled Garden is open daily noon until 4pm. Visitors and volunteers are most welcome. Entry is free. Location map here.