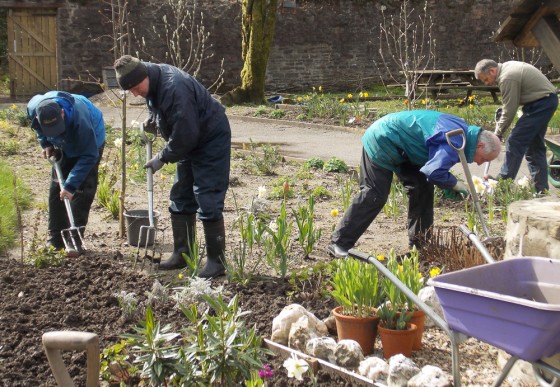 Preparing for the season opening of Glenfinart Walled Garden on Monday, volunteers from Loch Lomond and the Trossachs National Park were hard at work "doing the weeding" this past week. Thanks go to John, Ian and Roy who were assisted by resident gardener Glyn.
Also on hand was children's garden creator, Claire and her son Finlay (11) as well as Michael, Chloe (8) and Rebecca (11) from Dunoon and Grace, who brought along Gabriella (7) to help with the weeding in the Kid's area.,
All the volunteers were rewarded with a feast of Glenfinart Garden's now famous, home-baking ( as sampled by the stars of Beechgrove!).. pancakes, victoria sponge, fruit loaf and Mars Bar crispies!
Thank you all.
Glenfinart Walled Garden is open from Monday 21 April, 7 days a week from 12.00 – 16.00hrs. Admission is free.