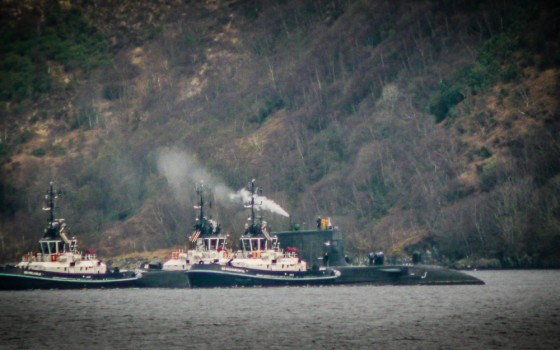 In an article, by environment correspondent Rob Edwards in today's Sunday Herald, the Ministry of Defence has revealed that it is planning a new conventional explosives handling facility at Coulport to deal with the growing number of nuclear submarines due to be based on the Clyde over the next few years.
In addition, a report, released under the Freedom of Information Act, has disclosed that in the five years up to August 2012, 262 nuclear safety incidents attributed to "human factors" have been reported at Clyde naval bases. 
As the residents of Ardentinny await a public meeting with MoD representatives which was demanded at the recent Community Council meeting, the Sunday Herald's report highlights that greater communication is needed between Ardentinny and its neighbours across Loch Long.
– Sunday Herald: Nuclear safety incidents at Clyde bases 'chilling'
– Rob Edwards: MoD report reveals over 260 safety incidents at Clyde nuclear bases
– Nuclear safety at HMNB Clyde report released by the Ministry of Defence