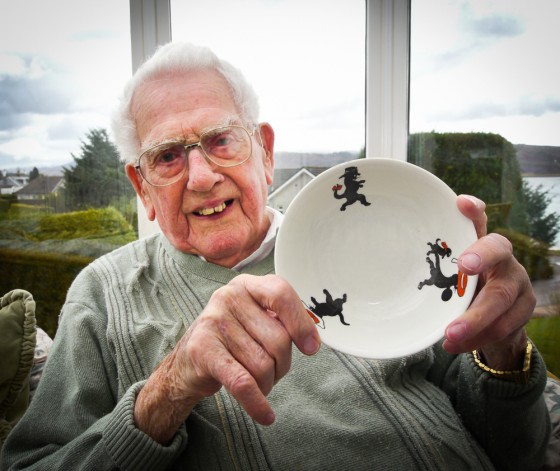 Ardentinny Resident of 31 years, Angus Sutherland, celebrates his 100th birthday this Saturday. Born at the onset of World War 1, his earliest childhood memory is receiving the gift of a little cat porridge bowl (pictured above) from his Dad at the age of three. Other childhood recollections in Angus' still razor-sharp mind, are the dimming of the gas lights as zeppelins flew overhead and the declaration of the Armistice in 1918. Hailing from Barnhill, he and his family had gone shopping to Dundee when the announcement was made. He vividly recalls everyone celebrating in the streets, not quite understanding why, and the fact that the trams stopped running. One driver agreed to take them as far as Broughty Ferry, after which they made the three-mile walk home.
Angus admits to having hated school, preferring, instead, the great outdoors. However it certainly didn't hamper his many professional and other achievements in later life. He began working as an apprentice in his father's joinery firm and then went on to attend Dundee Technical College for seven years, qualifying as a civil engineer. His professional career took him to Dounreay nuclear power station and then to Warrington for 10 years. Thereafter he joined the Electricity Board where his 'patch' included Manchester, Liverpool, North Wales and Anglesey and as far north as Carlisle.
During the Second World War years Angus was in the fire service training many of the fire personnel and among his colleagues was Jimmy Shand who went on to become a close friend. Other notable achievements were driving (with his Dad in the country) from the age of ten; building a family home from scratch on what turned out to be a peat bog once they got through the feet-high brambles; and turning a 25-foot hull into a cabin cruiser which he sailed on Loch Long in his retirement.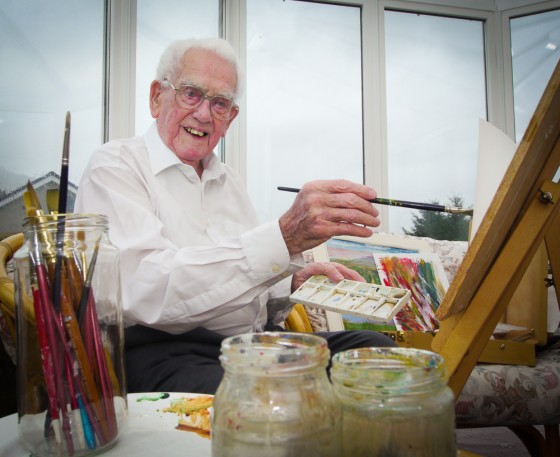 In 1947 Angus married Mary Marshall from Kilmany in Fife and they had two sons, Peter and Jack. One of Angus' great loves was fishing, which he shared with the children, and he recalls Jack, at the age of four, ably casting his line on the river Tay. The family always had a caravan and regularly took it round Scotland on holiday which is how they eventually found the home they retired to in Ardentinny.
So, in 1983 Angus moved to the village. He recollects that, at that time, there was an active village school; the Heron Tea Room; and a very busy 'Outward Bound Centre', run by Dave Lilley. Over the years Angus has regularly delivered the Selkirk Grace at the village's annual Burns Supper and he twice opened the annual flower show.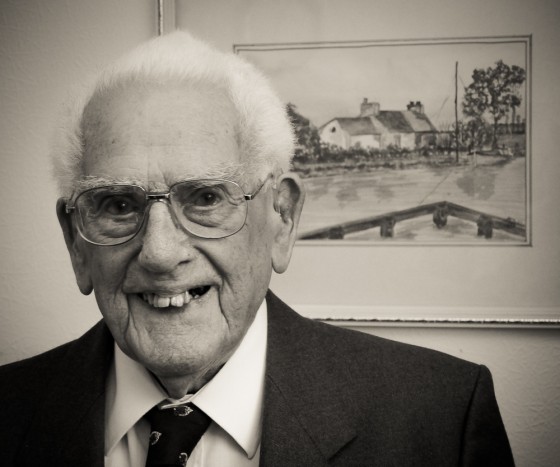 Until recently Angus has also been a keen traveller, cruising the Mediterranean, South Africa, the West Indies, Iceland and Norway and was always treated royally by local Saga Cruises Captain Alistair McLundie. He now maintains his more gentle hobby of painting and enjoying a regular meal out at Chatters restaurant in Dunoon.
He will celebrate his big day with a party for 100 at Kilmun Hall which is being organised by Rosie Macinnes of Chatters and with Ardentinny's Bill Tierney providing the music.
Regarding the future, he will be voting a resounding YES and is looking forward to seeing an independent Scotland.
We wish him Many Happy Returns!