Rather than swan lake it was a case of swan wood with swans navigating their way across Coronation Wood today as Loch Long rose to its highest level for several years.
The beach area, from the hotel to Shepherds Point, was well under water at high tide with the slipway totally submerged and the waves lapping around beached boats. The beach path from the church, which was recently repaired by Scottish Water, was washed away and is impassible for vehicles. Coronation Wood was under about a foot of water.
Further along at Shepherds Point, the car park is strewn with seaweed, illustrating the force of the water. The River Finart also burst its banks near the bridge and the bowling green is under water! Glenfinart Walled Garden didn't escape the force of the weather and suffered significant flooding.
Next high tide is 02.07hrs.
Thanks to Jim Robinson for additional photographs and video.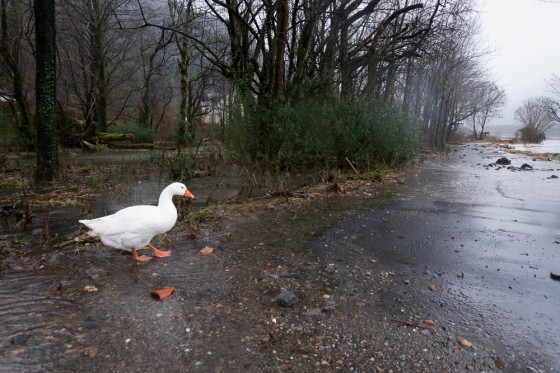 Video courtesy Jim Robinson
[Click image to enlarge]