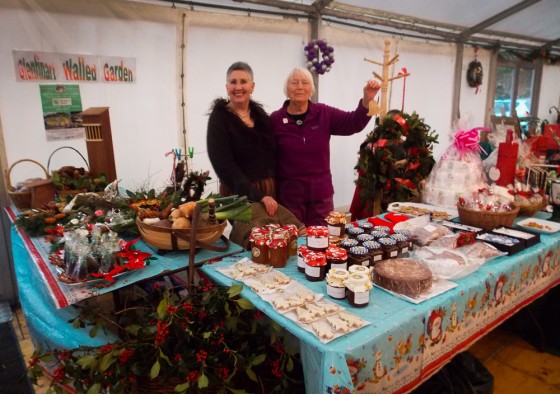 It's been a busy week for the Glenfinart Walled Garden volunteers who today put on an amazing display of produce and crafts at Blairmore's Local Produce Christmas Market.
Anna Williamson, Linda Naismith, Ann Morrison, Janette Reilly, Merle Ferguson, Lynn Kerr, Margaret Robinson and the Community Payback Team created beautiful wreaths and Christmas decorations to raise funds for the Walled Garden. Linda Naismith provided the venue for the village crafters and was a wonderful host, keeping the workers fed and watered (not to mention dealing with the mess left behind!).
Forest foragers gathered berries, hundreds of pine cones, holly and greenery for the wreaths and many from the community donated Christmas decorations, ribbons and craft items to complete the wreaths.  Locals also donated home baking and preserves, hand crafts and designer jewellery. The creative hands of Chris Emmett constructed bird boxes and feeders, the proceeds from which will buy wood for raised beds for the Walled Garden.
A big thank you to everyone!!