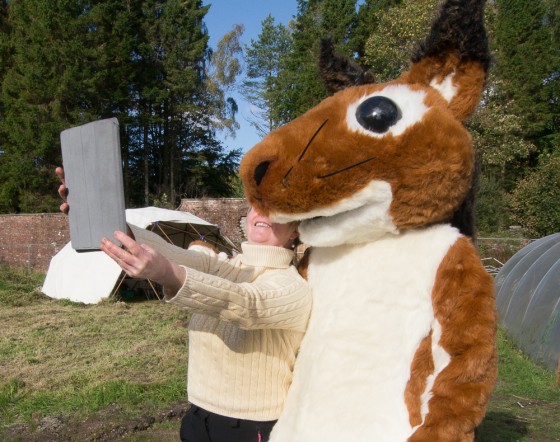 Ardentinny Community Trust held a Harvest Fair at Glenfinart Walled Garden on Saturday 12 October. Now a regular item on the Cowalfest programme, this year the garden could offer so much more and it did!
In addition to the recently completed Sensory Garden, inspired and recorded by the BBC's Beechgrove Community Garden's programme, there was a host of other attractions. There was apple juice pressing by young and old alike with John Hancox from The Commonwealth Orchard.
Argyll chef, Alison Sycora, provided harvest cooking demonstrations which produced delicious vegetarian dishes such as oat groat risotto. Artist and ceramicist, Bill Williamson attracted crowds all keen to learn how to throw a pot or two and the Walking Theatre Company's time traveller, Scot Ansgeulaiche, had visitors entranced by 'stories that have been hidden in the stones of the walls and plants in the grounds of Glenfinart Walled Garden'.
Loch Lomond and The Trossachs National Park Volunteers provided bird-box-making lessons and Cowal Red Squirrel Group were on hand with information, advice and a very special friend – a giant red squirrel who, with the garden's resident fairy, ensured that the kids were entertained.
Of course, there was also an abundance of the now renowned Ardentinny home baking to take away or wash down in the spacious tea tent and for a glimpse at the far and nearer past, there was an audio/visual record of the garden's progress to date.
Among the visitors was MSP Mike Russell who had this to say about the day:
"The walled garden has become a tremendous asset for the community and the amazing progress made since I was last there is a huge testament to the hard work of so many. The open day was tremendous fun and very informative and it was good to see so many people from outside the area there and keen to participate. All those involved deserve a great deal of praise for what they have done, not least for creating such a peaceful and positive space which touches many lives."
The garden will have its last regular opening to the public this Saturday from 11am until 3pm. and will reopen at Easter 2014. However, during the winter months, Glenfinart Walled Garden will be open to volunteers and groups and individual visitors are welcome to come along by appointment. Those interested in visiting the garden during the winter should call 01369 810275 or email info@GlenfinartGarden.org.
[Click image to enlarge]