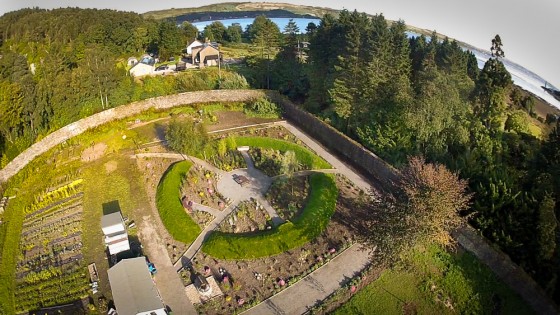 With the very successful Beechgrove Garden project now behind them and with a beautiful Sensory Garden to show for all their hard work, Glenfinart Walled Garden volunteers and Ardentinny Community Trust committee are gearing up for two important events this month. The first, a fundraising auction in aid of the Garden takes place in Dunoon's Burgh Hall on Saturday 14 September at 2pm (viewing at 1pm).
This week Lynn, Anna and Ian have been busily collecting donations of new and nearly new items from folks and businesses throughout Cowal. They even managed to fit in a quick half-hour guest appearance on Dunoon Community Radio, where they extolled the virtues of our imaginative community project to the radio station's growing number of listeners worldwide.
Saturday's auction will also feature a bottle stall, so now's the time to get that Hogmanay tipple in (after all, it's only 115 days away!) and help a good cause at the same time. For a partial list of the auction goodies on offer, see Glenfinart Walled Garden Facebook page. More items are being added daily.
Later in the month, Ardentinny Community Trust will hold its Annual General Meeting at the Village Hall. It's been a memorable year for the Trust. So much has been accomplished by the small but dedicated team. Who would have imagined that in the short time since the garden was acquired for the community from Forestry Commission Scotland, a productive vegetable garden, an orchard, and an amazing children's area have been estabished along with the creation of the Beechgrove Sensory Garden, for which the Trust has received rave reviews from its now steady stream of visitors.
Ardentinny Community Trust is aiming to build on this success. If you feel that you would like to offer your time and expertise to help take this project forward, then why not get in touch via email or by phone on 810238 or 810220.