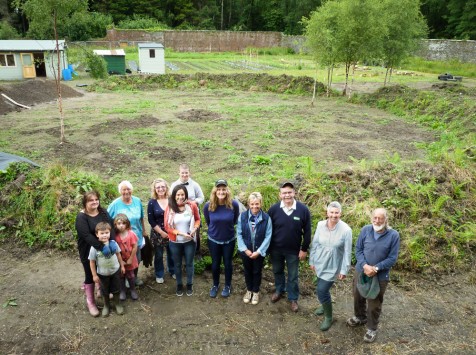 BBC's Beechgrove Garden team of Producer, Gwyneth Hardy; Designer, Lynn Harris; and Researcher, Stacey Shear together with Presenter, George Anderson, did a final recce on Friday before finalising their filming schedule for the end of the month. They first checked the progress being made in Ardentinny Community's Glenfinart Walled Garden and, in particular, the Sensory Garden which will be the main focus of their programme.
George Anderson also advised the Walled Garden team on the problem of "Mares' Tail' weed and pronounced it invincible, declaring that it can only be kept at bay with regular hoeing. He also suggested that the orchard needed regular pruning and lots of bird boxes to encourage birds which would eat the caterpillars.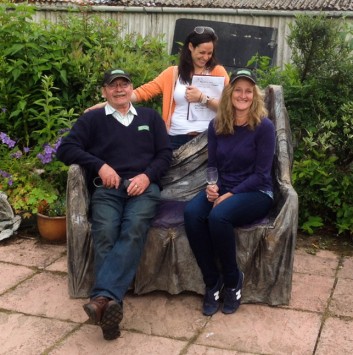 The team then went on to recce several domestic private gardens in the area for possible inclusion in the programme, one of which was Andy McLintock's in Kilmun. Andy, a local sculptor, is kindly donating one of his works in the shape of a garden seat for the Sensory Garden.
Lynn's design includes several seats, of which Andy's is one. Ardentinny resident and stone mason, Stephen Johnstone is both constructing and donating a stone seat; similarly, a carpenter from Kilmun is carving and donating a wooden bench; Designer Lynn Harris plans to create a grass sofa and a local resident has commissioned a metal bench in memory of a friend.
In addition to these generous donations, Ardentinny Community Trust is also indebted to its tireless volunteers and the support and donations of individuals and companies, most notably West Coast Tool & Plant Hire who continue to supply invaluable equipment, free of charge.