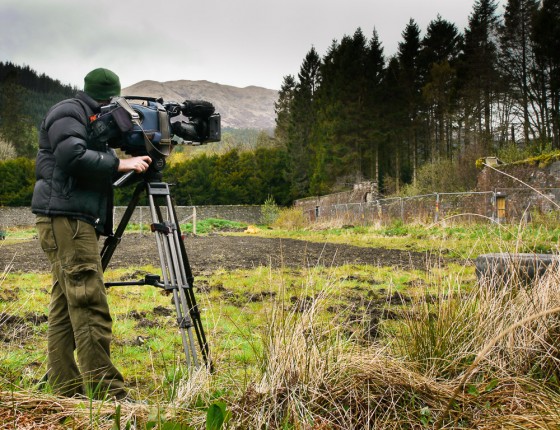 Tern TV was in Ardentinny on Saturday filming the 'before' shots for Beechgrove's programme on Glenfinart Walled Garden. In the meantime, their landscape designer, Lynn Harris had taken away 'the wish list' for possible inclusion in the garden design.
Lynn and Beechgrove researcher, Stacey Shear, had earlier attended a meeting with Ardentinny Community Trust's Walled Garden Committee in order to ascertain what they would like to have in the garden. Ideas gleaned from community consultations were passed on and the committee received the good news that Lynn intends to do a design for the whole garden, rather than just a part of it.
Due to tight financial and time constraints it will not be possible to put the complete design in place prior to broadcast. However, Lynn felt that by having 'the whole picture', this professional design plan could be presented to future potential funders in order to facilitate its eventual completion.
While Lynn and her team are working hard on our behalf, there is something she would like you to do. As it is a time for thinning out or discarding unwanted plants, she has asked that gardeners in Cowal give any excess plants to the project. No matter how insignificant you consider them to be, she promises that every single one will be used somewhere in the garden.
If you have unwanted plants to give or would like to volunteer in the garden, contact Ardentinny Community Trust (ACT) Convener, Bill Williamson on 01369 810238, or ACT secretary, Merle Ferguson 01369 810220 (In the case of adverse weather conditions, please phone either of these numbers to check that the garden is open). Alternatively, you can visit the garden between 10.00 and 16.00 hours on Mondays, Wednesdays and Saturdays or contact the committee at info@glenfinartgarden.org.
The Beechgrove Garden team will be in Cowal to record the programme from 31 July – 2 August, 2013.