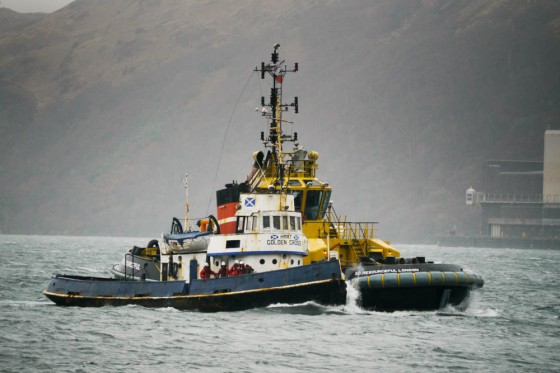 On Wednesday afternoon vintage tug Golden Cross was towed out of the rocky inlet at Shepherds Point where she had drifted to the previous day. After being lashed to Serco tug SD Resourceful in the middle of Loch Long and accompanied by an MOD police boat and RIB police launch, the vessel continued to her original mooring off Ardentinny Hotel.
On examination of the mooring by the MOD crew, we understand that it was impossible to secure the Golden Cross, as the 't/bar' on the buoy had been ripped off. The buoy will therefore need to be replaced.
HMRT Golden Cross was last night taken to a temporary mooring near to the mouth of Loch Goil.
Click image to enlarge.
Video footage to follow shortly.