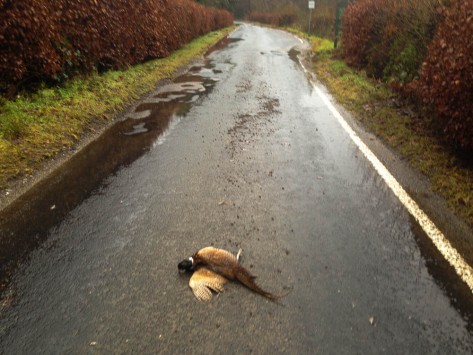 Sadly, wildlife fatalities around Ardentinny continue. Earlier today a pheasant was mown down near Angle Cottage on the road along the Glen. One has to wonder how these incidents occur.
Pheasants in the area are particularly tame. They can frequently be seen wandering by the side of the road and, at times, on the road. However, are these vehicles travelling so quickly that it is impossible for them to take avoiding action?
It's the same situation for squirrels and the crows who crack open their mussel shells on the highway. Are vehicles driving too fast on these narrow roads to be able to see these creatures ahead?
Back in 2010 some local residents erected signs near the Swedish Houses to alert drivers of 'baby" squirrels crossing. The possibility of signage warning of wildlife has also been discussed at Community Council meetings. However, these have yet to materialise.
One does wonder if this latest incident was related to someone relishing pheasant on the menu for their New Year meal, as just 20 minutes after our photograph was taken, the bird had mysteriously disappeared!