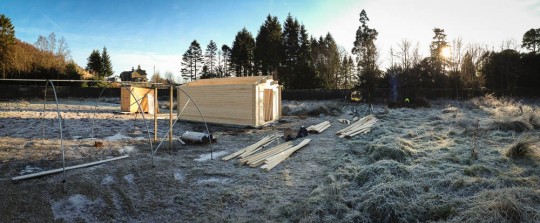 The ambitious Glenfinart Walled Garden project took a major step forward this week with the installation of a 24 square metre log cabin. The building will be used as the main administrative centre for the project.
Trust Convenor Bill Williamson said "2012 has been a remarkable year for Ardentinny. With the support of the community and our funders, we have acquired this historic garden and are now on the way to returning it to its former glory".
Despite the freezing conditions on Tuesday, the crew from Forest Craft completed the cabin build before nightfall. Volunteers from the village also braved the elements to dispose of the recently felled birch trees and goat willow.
Over the coming weeks the group will be planting some 30 fruit trees in the garden as well as fitting out their new premises.
The Trust would very much welcome additional help. If you are interested in volunteering, please contact Bill or Anna on 810238, Merle or Dennis on 810220 or Jimmy on 810170.
[HTML1]