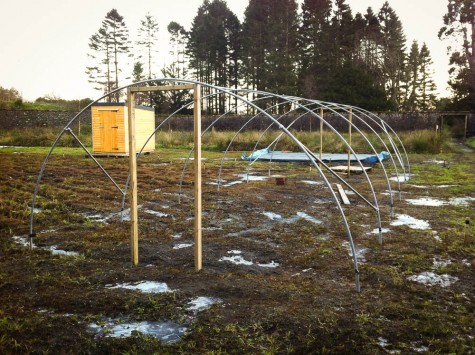 Ardentinny Community Trust this week published its first newsletter which has been distributed to all village residents. The update follows the progress of the garden from March 2012 to the present. Highlights from the year include the acquisition of the garden in late March; an Open Day at the Village Hall in May; clearing of part of the site in June; the agreement for Emma and Sophie Thompson to become patrons of the garden in August; and the construction of a small shed and polytunnel frame in November.
Throughout the year Trust Directors have also made several visits to similar projects throughout the UK and there have been visits to the Walled Garden by horticultural professionals in an advisory capacity. Before Christmas, the Trust hopes to have new fruit trees in place as well as the completion of the large timber shed.
With much work still to be done, the Trust would very much welcome additional volunteers. If you are interested, please contact Bill or Anna on 810238, Merle or Dennis on 810220 or Jimmy on 810170.