[Updated 4 Sept. 2012]
The following is a clip from the LochLongCam.com webcam filmed on Tuesday 28 August, 2012 off Coulport.
As requested by several of our visitors, we have posted below the full sequence of still images of the whale.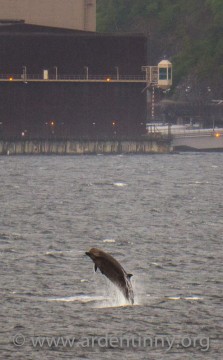 [Update 3 Sept. 18.30] The Ardentinny.org photograph offers a complete picture  and The Hebridean Whale and Dolphin Trust (HWDT) have identified this one as a Northern Bottlenose whale. More at ForArgyll.com.
[Update 3 Sept.] One contributor in our Facebook page thinks it's a Northern Bottlenose Whale. Our money's on this suggestion!
With reports in the last few days of a Minke Whale being spotted in Loch Long at Ardmay. Is this photograph (taken this afternoon) of a porpoise or Minke Whale? Answers below please or on our new Facebook page.