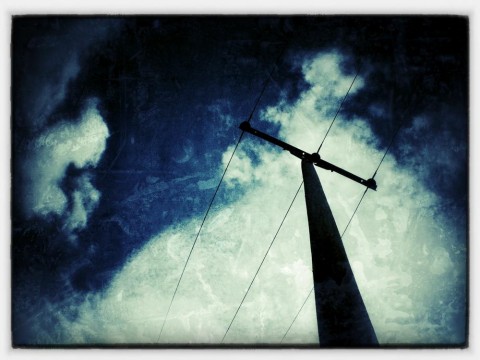 Ardentinny Community Council repeated its plea for a volunteer to research and possibly take forward a hydro power project for the village. The issue was raised at its bi-monthly meeting held after its AGM on 7 August, 2012. National Park Representative, David McKenzie stressed that the government and its agencies were fully supportive of such projects and cited examples of where the developer pays for the plant in exchange for 50% of the revenue from the grid while the community takes the remaining 50%. Although the figures didn't always stack up, as it was mentioned that Forestry Commission Scotland also expected 50%, if the site was on their land. Clearly there is a need for further research into the proposal. Anyone interested in being involved should contact Community Councillor, Dennis Gower on 01369 810220.
Security Pens
PC Donald MacKay brought along security UV Marker Pens for community use. These were distributed among the community councillors for further distribution to residents. Alternatively, you can contact Eileen Connell on 01369 810285 for the use of one. PC MacKay also reported successful patrols with Operation Ironworks and it was agreed that there had been no problems at the Picnic area, as in previous years. He reported that he will soon be undertaking the necessary training for his licence to drive the mobile police facility which will then make visits to Ardentinny.
Beach Toilets
The Forestry Commission's representative reported that the beach toilets were ready but had not been installed as they are still awaiting the relevant permissions from SEPA and the National Park Planning Authority. She also requested that anyone seeing anything untoward happening at the beach area should contact the police (01369 763000) immediately rather than wait to report it to them within their working hours.
MOD representation
The MOD had still not confirmed whether or not it will send a representative to Community Council meetings. The Convenor reported that she had been invited to attend HM Naval Base Clyde's Local Liaison Committee Meetings. Councillor Bill Williamson requested that he might also attend and said he thought there was still a case for an MOD representative to attend Ardentinny Community Council meetings as there was a precedent for doing so and that the invitation had been extended in the light of issues published by the Defence Nuclear Safety Regulator's annual report 2011. In addition, Community Councillor Malcolm Bartley expressed concern about the plans to *privatise the security provision at Coulport.
Ardentinny Centre closure for refurbishment
Centre Manager Aidan Docherty sent his apologies but submitted his report stating that the Ardentinny Outdoor Centre would close on 20th August for 6 months for the purpose of refurbishing the premises. They hope to be back in operation in the village by Easter or June 2013, at the latest.  In the meantime they will operate out of Toward and they are continuing to negotiate the purchase of Ardentinny centre from Argyll and Bute Council.
* Russell seeks to establish Scottish Government position on MoD contract to privatise Trident at Coulport and Faslane