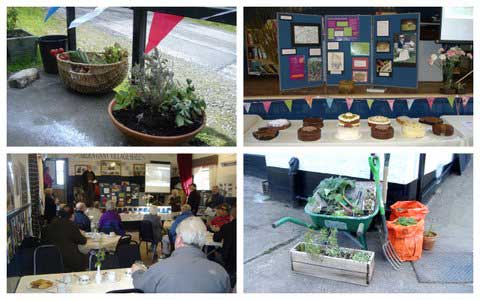 The Ardentinny Village Hall was thriving with people and produce, Sat 5th May 2012. They came together for a day of celebration and consultation following the recent purchase of the Glenfinart Walled Garden by the Ardentinny Community Trust, on behalf of the community. As well as locals, the event attracted people from across Cowal including Mike Russell MSP who has been a long term supporter of the project.
Tours of the garden were provided, along with an impressive selection of cakes, made by Anne Morrison, and other refreshments.
Information stalls and resources relating to community gardens and projects provided an inspiring backdrop for discussions about the potential of the historic space as a community asset. Further information about initial plans to develop the garden, through the clearance of a section of the site and the installation of a shed and polytunnel were displayed and Project Officer Hannah Clinch gave a presentation about the garden's progress to date and some insights into other 'West Coast' garden projects.
Dennis Gower, ACT convener raised his glass in celebration of this fantastic achievement for and by the community. Thanks to everyone to date who has made the purchase of the garden possible and please continue to contribute your ideas. More information will follow on new volunteer opportunities in the garden over the summer.
Hannah Clinch.