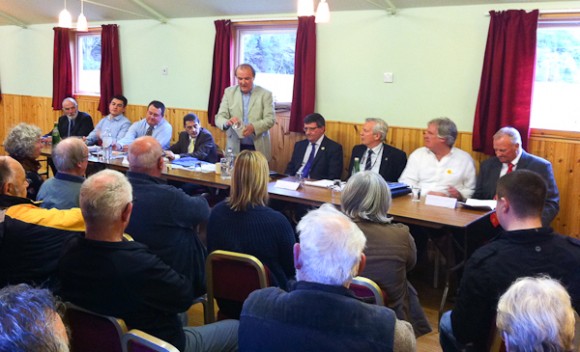 Prior to the May 3rd Council elections, hustings for the Cowal Ward took place in the Uig Hall on Monday 23rd April. *Eight of the nine candidates attended and each, to a man, promised to do the best for Cowal. What constitutes 'the best' will obviously be a matter of differing opinions.
Questions from the audience, relevant to Ardentinny, were responded to as follows:
The Ferries
The first question of interest, not only to residents of Ardentinny but to those of Cowal and Dunoon, was on the the vexed issue of the ferries. Chris Talbot said the Council needed to pressure the government in order to get what the residents wanted. Bruce Marshall said they were already doing that. Stephen Johnstone favoured a peaceful protest. Gordon Blair, who is a member of the Ferry Action Group, said they were taking Transport Scotland to task and agreed that they had to get the issue resolved. Alex McNaughton said the boats were substandard and not safe and that the Council has to put in a massive effort to rectify the situation. Ron Simon said he would continue to work hard to bring about the necessary improvements, pledging to deliver what the people wanted. Lewis MacDonald suggested that the Council becomes such a thorn in the side of the government on this issue, that it is easier for them to give us the boats we want.
Entertainment Licence
All the candidates were asked what their position was regarding Argyll and Bute Council's plan to implement a £440 licence fee for any group or person performing live music in public, with the prospect of a criminal prosecution and a fine of up to £20,000 for non-compliance. This would potentially close music clubs, hamper money-raising efforts for charity and Creative Scotland has advised Councils not implement this. It is not compulsory to do so and apparently Glasgow City Council has waived it while Edinburgh has not. The panel unanimously agreed to push for non-implementation if they were elected.
Provision for special needs
A member of the audience then asked how the candidates would champion the cause of people with special needs. Alex McNaughton said that he had already publicly stated that he would make care of the elderly and the disabled a very high priority. Lewis Macdonald stated that he felt smaller schools were better placed to deal with special needs where pupils are individuals rather than a number. Chris Talbot said it was the duty of the council to provide for those with special needs while Ron Simon expressed concern at the lack of preventative spend. He said that currently the Council has a policy of supporting priority 1 and 2 cases over priority 3 and 4. However, if priorities 3 and 4 received the support they needed it would prevent them eventually coming under the category of 1 and 2, thus saving the council more money in the long run. He felt it should be about needs, not money and that there also ought to be a spokesperson for the care of children and families with special needs. Gordon Blair said that one way of measuring the wealth of our society is to measure how well they look after the most vulnerable. He stressed the importance of inclusion and said that is what he would be fighting for. Bruce Marshall said Argyll and Bute Council takes the issue very seriously. He said they have taken on the concerns of CLASP (Cowal Local Action Special Project) and they have decided to set up a service allowance to meet their needs which will come into effect with the new council. He also said that the council had decided to incorporate 10% of all social housing to meet the needs of disabled people. Stephen Johnstone said that the few disabled in Ardentinny find that the older they get, the less support is available. He said money should not come into it and that we should be throwing everything at them for the time they are here. Russell Weir concluded by saying that it is so important that the elderly and the most vulnerable continue to receive high quality care.
Support for Community Councils
The Chair of the Caucus of Community Councils asked the candidates, if elected, what they could offer by way of support in the funding of community councils. Alex McNaughton informed the meeting that it had just been agreed to pay transport costs of Community Councillors for distances over the first 20 miles. Bruce Marshall confirmed that training would also be provided. There was also general discussion regarding the use of video conferencing and car sharing, wherever possible, with which all concurred.
Why so many independent councillors?
One audience member asked why Argyll and Bute has so many independent councillors. Russell Weir said it was because he had only local interests at heart. Alex McNaughton said that politics shouldn't come into it. Bruce Marshall indicated that he also took that view. Chris Talbot said what was important was that Argyll and Bute has a very strong group and that he wasn't convinced, if elected, that the SNP would deliver. Ron Simon said he thought party politics does have a role to play in local government. When people stand together on a manifesto they have a common ethos and when people vote they know what they are voting for. A local example being the proposed closure of rural schools which was a red line issue for the SNP. He also thought that political parties were better placed to engage with, e.g., the government and COSLA in necessary negotiations. He reminded those present that on joining local government you have to form a political grouping of some sort and if the independents join together, they do so without a common ethos and the policy direction becomes watered down so that they each get their own bit. He believes that being a member of a party and a local councillor are not mutually exclusive and that he can represent both just as easily. Lewis MacDonald said he was there to represent the Ward, not Conservative Central Office and he did not see a conflict and he would work to make our rural communities as vibrant as possible. Gordon Blair felt that by focussing on SNP policies it could produce the best results for this rural area and that, up to now, the public had been short changed by the independents.
Trident and our health
The most pertinent question regarding Ardentinny, as opposed to the rest of the Cowal Ward, was a question directed to Bruce Marshall for his expressed special interest in the environment and to Chris Talbot, being a retired member of the Royal Navy. The question : Due to the amount of waste from Coulport which has affected people's health, specifically incidences of leukaemia, the first priority for Councillors and MPs should be to look after people's lives and therefore, when would they get rid of Trident? Bruce Marshall responded by saying it was 'a lot of nonsense' and went on to say that the Trident base at Coulport and Faslane had been a cornerstone of our defence during the Cold War Years and that the Russians might have attacked had it not been there. He added that the assertion about cases of leukaemia was not proven and that there had been no extra cases of leukaemia in the area. Chris Talbot responded by saying that he was not a sub-mariner but had worked in communications and he had spent the last five years of service on the base. He said the Nuclear Regulator was very hot on the Clyde Base and not much happens they don't know about. He said there had been leaks but that they were minor and he was not aware of high instances of leukaemia. Gordon Blair added that if there is contamination it needs to be cleaned up and local government needs to push for it and that at present the Scottish government is in conversation with the MOD on that subject.
[HTML1]
Speed limit at Cothouse
The final question of relevance to our residents was posed by the Chair. It was regarding the lowering of the speed limit at Cothouse from 60 to 40 mph. He said that the outgoing Chief Inspector Moseley had given his written support and he asked the candidates if they would support it. Everyone was in favour of the reduction though some suggested that it be imposed up to as far as Benmore Gardens.
*Candidates attending (in alphabetical order) were:
BLAIR, Gordon (SNP)
JOHNSTONE, Stephen (Independent)
MACDONALD, Lewis (Conservative)
MARSHALL, Bruce (Independent)
MCNAUGHTON, Alex (Independent)
SIMON, Ron (SNP)
TALBOT, Chris (Independent)
WEIR, Russell (Independent)
Absent:
LAMBERT, Chris (Independent), who telephoned his apologies.
For those of you with a postal vote, your voting papers should have arrived by now. Otherwise voting will take place at your local polling station on the 3rd May, 2012, from 7 a.m. to 10 p.m. There are 9 candidates for 3 places so you can select the three you wish to serve on the Council to represent the Cowal ward by writing no 1 in the box of your first choice; no. 2 in the box of your second; and no. 3 in the box of your third. You can also fill in all the boxes, prioritising numbers 4 to 9 if you wish to indicate who you would like to see serve should any of  your 1-3 choices not be elected. Obviously you can make as many or as few choices as you wish.

All the candidates have stood for election in order to serve you and the Cowal area. Do give them your support and have your say by voting on May 3rd.