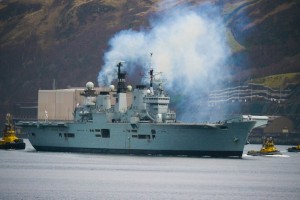 The Clyde bases that host Britain's nuclear bombs and submarines are plagued by widespread safety flaws, according to an internal Ministry of Defence (MoD) report obtained by the Sunday Herald.
Critics fear that the problems could trigger a major nuclear accident at Faslane or Coulport that would contaminate Glasgow with radioactivity. They say this would be "unspeakable" and are demanding an urgent investigation.
The MoD's latest annual review of safety reveals that 11 of the bases' 13 activities have been officially declared unsatisfactory after assessments by site managers and regulators. The review was released last week in response to a request under freedom of information legislation.
Nine safety activities were colour-coded yellow because they were "below standard" and suffered "some specific weaknesses". These included categories headed "weapons safety", "safety culture", "maintenance", "safety performance indicators", "site safety case", "nuclear safety event reporting" and "conventional health and safety including fire safety".
Two activities were coded orange because they were "significantly below standard" with "flawed" practices or procedures. They were headed "organisational change" and "operator experience feedback".
No further details about the precise nature of the safety weaknesses were given in the review, or by the MoD. On nuclear weapons safety the review just said there had been "shortfalls in specific areas or delays in progressing projects".
The revelations were "of grave concern", according to the SNP's defence spokesman in Westminster, Angus Robertson MP. "They point to serious systemic failures which could clearly put lives at risk," he said. Continued…
Reproduced by permission of Sunday Herald environment correspondent  Rob Edwards.