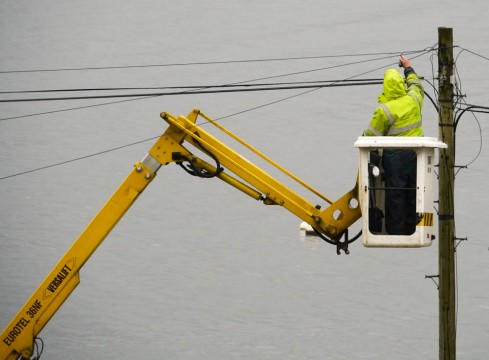 18 days on since some 40 Ardentinny homes and businesses lost their fixed line communications during the storms of January 3, the last affected villagers have now been re-connected by BT. Brendan Dick, Managing Director, BT Regions has asked us if there is anything to be learned from this episode. Our immediate observations follow and hopefully other BT customers, affected by the outage, will also offer their feedback.
The severe gusts on the morning of January 3 brought down part of a large tree overhanging the main shore road near Ardentinny Outdoor Centre. This in turn sliced through the main telephone cable (see here) which connects the north of the village. One of the major criticisms from villagers has been the lack of communication from BT.
The normal sequence for the customer to report a fault appears to be to call 151 (from a fixed line). However, for the majority, this would not have been possible, given that they had no fixed line. The other option is to report via the web (fixed line or mobile broadband) or by mobile phone on 800 800 151. On January 3, much of the mobile network was down, due to the storms.
Over subsequent days it would appear that many residents did not (or were unable to) report the fault with their line. The reason for this we assume is that the majority of residents were aware that it was a major line cut on the shore and considered that, once BT saw the problem, they would realise which of their customers were without lines and re-connect them as soon as possible. As we found out earlier this week, this was not the case. As the main shore cable carries dozens of smaller cables, it would appear that BT engineers needed access to each property to match the cable to the customer's line.
On January 3 we reported the fault on our line to BT (by mobile broadband). Within an hour we had received a call from an engineer requesting more details. We informed them that the main village cable had been cut and that most probably half the village was now without phone lines. He advised that no engineers were available and that it may be 3 days until BT could attend to it. Later in the week we were given dates of 9 and 12 January for re-connection by the BT call centre in India.
No BT personnel were seen in Ardentinny during this period. Finally, with no further updates from BT, we contacted Michael Russell MSP for Argyll & Bute. He assured us that he would be in contact with BT the following day.
On January 11, only five temporary lines were installed to premises on the shorefront, apparently due to the fragility of the pole. However, it took another 10 days for the rest of the village to be connected. As can be seen from the email between Michael Russell and BT's Head of Scottish Affairs, Ian Shanks, it was considered that BT was tardy in providing a deadline for the repair.
It is a poor reflection on BT that it appeared to take the intervention of an MSP, who has access to the highest level of BT management, to resolve this issue. Why was this the case? Was senior management unaware that half a village was disconnected for almost 3 weeks?
Over the past few days Ardentinny has seen a welcome increase in the number of BT engineers on the ground and the lines have been re-connected.
For the future, we hope that BT will consider the following:
– Due to the poor coverage of mobile communications in rural areas, fixed line communication is essential for many.
– BT had 18 days in which to contact its customers, by whatever means. This could have been done by post, outlining the problem and giving an anticipated re-connection date.
– Over the 18 day period, when did a senior engineer survey the damage and report the findings to BT management? This information in turn could have been passed on to the BT customer.
– The BT call centres in India, UK and BT's Twitter service @BTCARE were providing different information to callers. Of our calls to BT, it appeared that the BT staff were not aware that some 40+ properties were affected. Most call centre staff assumed that it was only a single fault. Is there any procedure for a community to report a major outage? Also, the 'Ardentinny experience' would suggest that internal communications within BT are in need of improvement.
– It appears that BT has a manpower shortage when major outages occur. It was only in the past few days that the village saw a significant increase in personnel. As a rural community, one appreciates that towns and cities will have priority over small villages. However, rural BT customers should expect a level of service comparable to the rest of the country, which includes keeping them informed.
– For the utility companies, local knowledge can be indispensable. This was demonstrated earlier in the month during the power cuts where local people throughout Scotland assisted in tree clearing, manning emergency centres etc. In rural communities. Has BT considered liaising with individuals or groups in villages to assist and disseminate information? BT and the other utility companies could have, on file, contact details of e.g., Community Council members, a local voluntary group or local website. When a major outage occurs these individuals could assist BT by providing local knowledge and feeding back to local residents
– As internet communication grows (especially in rural communities) and broadband becomes a necessity, BT could also assist these communities during extended outages by installing a temporary broadband connection in a public building to enable residents to remain connected.
– We recognise and are grateful for the conscientious hard work, in often appalling conditions, that the BT engineers undertook when they were here.
Finally, we would like to thank Michael Russell MSP and his office. Without his vital assistance, Ardentinny may have had to wait a great deal longer for us all to be re-connected.