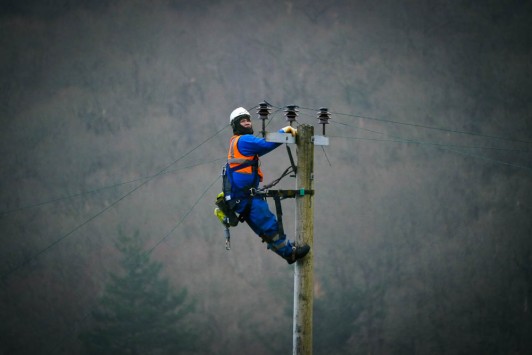 One of the last places in Scotland to be reconnected after Tuesday's blackout was Ardentinny at 3am on Friday morning.
Ardentinny residents had spent a third night without power to their homes and businesses. Along with many other parts of Scotland, severe gales early on Tuesday morning brought down power lines, mainly due to fallen trees.
Until lunchtime on Tuesday, Ardentinny village was totally cut-off with fallen trees on the main road at Glenfinart Caravan Park and at Gairletter. Local residents Jim Robinson, Guy Elder and a small team of volunteers used chainsaws to clear the Glenfinart road in atrocious conditions while local farmer David Marshall and his team cleared the road opposite Gairletter Caravan site in the late morning.
Part of a tree at Ardentinny Outdoor Centre fell on to the main shore road, narrowly missing a parked van and  shearing the main phone lines to residents on the northern end of the village.  Half the village is therefore without phone or broadband service. We understand that the phone service may not be reconnected until Monday (9th) evening. Mobile communications are also intermittent, due to the lack of power to the local mast.
Thursday saw the first arrival of engineers from Scottish Hydro Electric Power Distribution (SHEPD). Engineers could be seen throughout the village with several repairing fallen power lines between the village hall and Glenfinart Hotel. It was hoped that supplies would be restored on Thursday evening, however this did not happen. Given the difficult terrain around Ardentinny and the high density of forestation, engineers are having to survey the entire network for signs of damaged cables and equipment.
Scottish Hydro Electric Power Distribution said the following: 'The industry regulator, Ofgem. specifies through their 'guaranteed standards' exactly when and how much compensation SHEPD is required to pay to customers who have lost their electricity supply. In an exceptional storm event such as this, customers who have been without power continuously for more than 48 hours would normally be eligible for compensation.  However, SHEPD always assess claims on a case by case basis and may choose to make ex-gratia payments to customers which go beyond those required by Ofgem'.
Customers who believe they have grounds for making a claim should write to: Claims Department, Scottish Hydro Electric Power Distribution, Inveralmond House, 200 Dunkeld Road, Perth, PH1 3AQ.
Click image to enlarge.