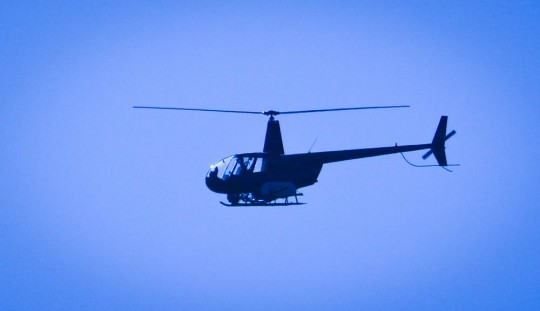 For those of you who regularly read this site, you will already be aware that aerial spraying took place over Ardentinny, for the second year running, in July of this year. This happened without any apparent forewarning, despite an undertaking from Forestry Commission Scotland (FCS) last year that notice of any future aerial spraying would be communicated to the public, in advance. Consequently Ardentinny.org contacted FCS and there ensued various correspondence, all reported here, regarding whose responsibility it was to inform the public and who had done what, in that regard. Two of our site visitors were kind enough to supply evidence of what was required by law in England and Wales and we checked with the Scottish Environmental Protection Agency (SEPA) and it confirmed that the rules regarding signage also applied in Scotland.
FCS then provided information supplied by the helicopter company, MFH Helicopters Ltd., who undertook the spraying, which said that warning signs had been posted but could give no further detail (see Aerial spraying – the future). As we were invited to deal directly with Mr. Hawkings-Byass of MFH Helicopters, we did so on 27 September, 2011 asking if his company retained the data required in their Aerial Application Certificate which was detail of the company's procedures for the provision and positioning of warning signs within 60m of the land to be treated so as to warn pedestrians, drivers and others of the activity. In addition we asked: How many signs were posted; when they were posted, the wordage of the signs; and their exact location, preferably with map co-ordinates. Mr. Hawkings-Byass responded to say that he would reply to our questions on 3rd October. On hearing nothing further, on 11th October we wrote to the Civil Aviation Authority (CAA) requesting said information, in the knowledge that it is one of their requirements when issuing the appropriate license.
On 14 October we received the following response from MFH Helicopters Ltd:
I apologise for the delay in replying but I have been away. I am sorry that I am not able to produce much more information than I have already. As I have stated already we are not obliged to keep records of where and when signs are posted. All our ground vehicles carry such signs.

Since the regulation was introduced, open access has required us to re-evaluate the measures we take with regard to 3rd parties and these will be particular to each location and its relevant circumstances.

Kind regards,

Nicholas Hawkings-Byass
and on the 26th October we received the following response from the CAA:
MFH Helicopters are granted their annual Aerial Application Certificate on the basis of a number of items including an Operations Manual that states how the spraying operations are to be conducted. In compiling this manual the guidance in our CAA publication CAP 414"The Aerial Application Certificate" is followed, which states,amongst other things, how warnings should be posted to nearby residents etc. I can confirm that the MFH Operations Manual does contain instructions to its crews to post warning notices on public roads and footpaths within 60m of the boundary of the land to be treated.

The CAA carry out an annual inspection (audit) of the field operations of Aerial Application Certificate holders including MFH. The most recent inspection took place in July of this yea rand there were no findings that would have justified suspending MFH's certificate.

I understand that you are having a constructive dialogue with MFH in order to ensure that the warning signs are posted where they can be readily seen and fulfil their purpose. If the warning sign system is not proving effective we would reasonably expect MFH to use additional media(websites/local liaison etc)to ensure fair warning is given and the local effected local populace are aware of what is taking place.

Regards,

Lawrence Hay
Encouraged by the CAA's approach to 'ensuring fair warning is given and the local effected populace are aware of what is taking place' we asked if the CAA would communicate this to HMF Helicopters as, apart from Community Council members, it seemed that neither the local residents, nor the general public visiting the village on the day the spraying took place, were aware of it and that hill and forest walkers at the time reported they saw no warning signs. On 1 November, 2011 we received this response from Mr. Lawrence Hay of the CAA:
I will discuss the use of additional media with MFH and they were copied in on my last e-mail to you. I am having a regular dialogue with MFH on the future of aerial spraying as this has been under threat due to various EU decisions. The UK is seeking to continue having aerial application of asulox/asulam as an option since its only present use here is for this type of conservation work. The use of helicopters is regarded as less invasive in remote environmentally sensitive areas (typically rural hill sites and moors) because they do not have to use tracks and paths or leave a surface 'footprint'.

I note that the Community Council did not have the opportunity to pass on information to the residents of Ardentinny and that some of the posted signs were missed. From my dealings with other operators, this problem of communication is one of the hardest to get right especially as they are at the sites for a very brief time; it may well be that some of the places that signs are posted are not the same places that would be obvious to those with local knowledge.

It would help if a local liaison point/person were established so that prior to operations, critical information could be passed on to the right people and the benefit of local knowledge obtained.

Regards,

Lawrence Hay
While the lack of forewarning of spraying, which should include the name of the substance being employed, has been our main concern, it is interesting to note that the chemical used appears to be of concern on many fronts, though perhaps for different reasons. However, it is heartening to see that there is a will to overcome past failures to forewarn the public and to ensure that this does not recur.
Related links:
Asulam (Wikipedia)
ASULOX UPDATE Oct 2011 (MFH Helicopters)
MFH Bracken Control Brochure 2011 (MFH Helicopters)
CAA Aerial Application Certificate
SEPA: Bracken Control – A Guide to Best Practice
Bracken Eradication (The Scottish Government)
Bracken & Asulox FAQ (MFH Helicopters)
Asulam Voted for Non Approval (Sept. 2011 – United Phosphorus Ltd)
Asulox supplies (Oct. 2011 – United Phosphorus Ltd)
Asulox ban a blow to Scottish farmers – Lyon (Scottish Liberal Democrats)
Uplands protest over ban on bracken spray (The Guardian)
Farmers urged to act over bracken control agent asulam (Farmers Guardian)