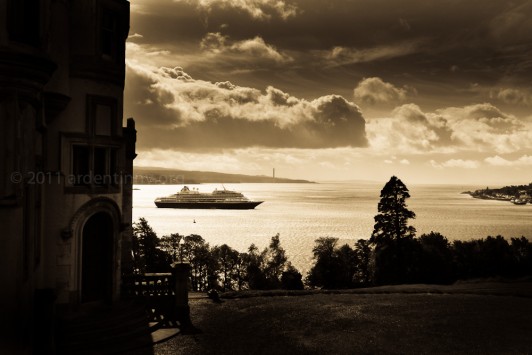 Dunoon's shopkeepers received a very welcome shot in the arm today with the arrival of the liner MS Prinsendam. The 37,800-tonne Holland America Line vessel was berthed at Greenock on Tuesday but was forced to stay overnight due to the stormy weather. She was scheduled to leave Greenock at 17.00hrs on Tuesday however the departure was delayed until 06.45hrs on Wednesday, prior to the arrival of Cunard's Queen Elizabeth.
This morning the ship was anchored off Strone and the Holy Loch. Passengers were ferried with the Prinsendam's own launches between the mouth of the Loch and Holy Loch Marina. They were then shuttled by bus between Sandbank and Dunoon.
With some 835 mostly US tourists on board, Dunoon's Argyle Street was buzzing with activity.
The Prisendam's next cruise leaves Tilbury on 12 September for hopefully much improved weather conditions in the Mediterranean.
20.45hrs: Prinsendam is now off the island of Arran enroute to Portee, Skye.