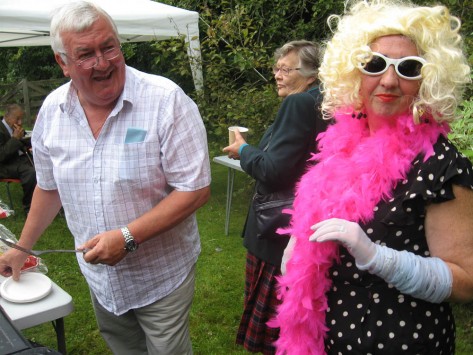 Woodlands above Ardentinny rang to the sound of laughter last Sunday when the sun shone on a party to raise funds for Glenfinart Walled Garden Community buy-out. Dave Lilley opened the occasion, spoke of previous community developments in Ardentinny and Glenfinart and welcomed this latest and most ambitious project.
Highlights of the afternoon were the 'Tea with Mussolini's' who hulahooped to a total of £994 in sponsorship. An auction of work by local artists and promises ranging from 8hrs oddjobbing (Chris) to a day's work from Billy the contractor with his digger, (lots of bids for both of these handsome men!) raised £1090, making a total raised of £2084. The children especially enjoyed battling with the Green Knights and their Archers. Elaine, the Mystic Seer channelled good fortunes from her magic horse whisperer.
The organisers wish to thank everyone who contributed to the delicious homecooking and good cheer.
Merle Ferguson.