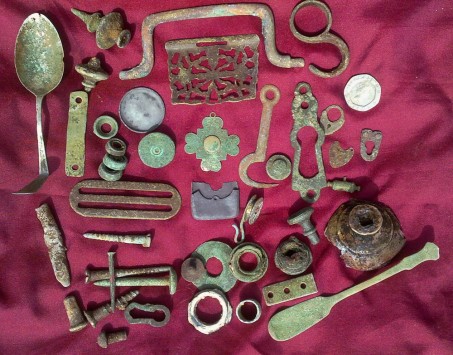 Residents of Ardentinny have long been aware that the village is indeed the jewel in the crown of the Cowal peninsula. However, last week, we were fortunate to meet up with a gentleman seeking out other types of treasures. Complete with metal detector and ever-patient dog 'Misty', Wales-based Roger Howell is a regular visitor to our shores in search of long lost hidden treasures.
Roger used to work in the area and is therefore familiar with its rich history. A keen metal detectorist, during his couple of days on Ardentinny beach, Roger came across several interesting finds including two toy brass soldiers (one headless, the other with a single leg) most likely from the turn of the 19th century, a tiny Beatrix Potter-type brass rabbit, a peuter napkin ring and a couple of Minié Balls (bullets) most likely from the 1800's.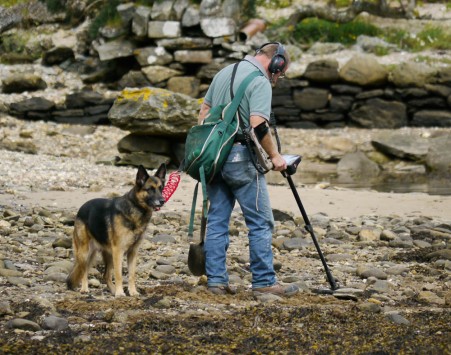 Roger was particularly surprised by the quantity of lead material he uncovered. However, given Ardentinny's history as a fishing village, these were most likely used as weights on fishing nets.
One of the excellent environmental side effects of these keen metal hunters is that any "scrap" metal unearthed such as ring-pulls and broken bottle tops are collected and either recycled or deposited in a litter bin. The rubbish is never returned to the beach.
Some metal detecting resources:
Metal Detecting Forum
UK Detector Net
Garysdetecting.co.uk
National Council for Metal Detecting
Ploughed and Rolled
6 September, 2011.
Roger Howell has kindly provided us with images of his collection from Ardentinny beach. Sorry, he can't entertain claims for that 50p piece you lost in 1972!