We've received some fascinating historical information from Janet Gardner Roy, a relative of former Ardentinny postmaster Matthew Gardener. Janet is researching the Gardener family history. As well as running the village store and post office, Matthew Gardener also published local Ardentinny postcards.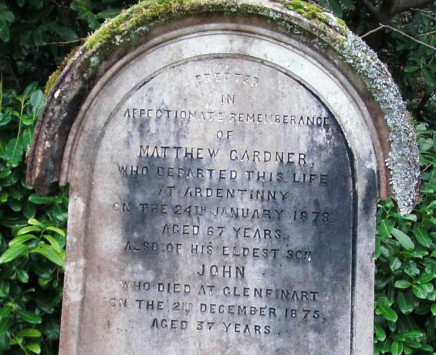 Matthew Gardner was born on 4th. October 1809 in Wishaw, Lanarkshire, he married Helen Currie on 19th. April 1835 in Bothwell, Lanarkshire. Matthew died on 24th. January 1878 in Ardentinny and is buried in Kilmun Churchyard (see photograph).
Helen Currie was born about 1814 in Bothwell, the daughter of John Currie and Isabella Carstairs. Helen died on 11 May 1899 in the district of Kilmun and is not mentioned on the gravestone. Matthew & Helen only had 5 children that I am aware of namely: Euphemia born in 1836 in Stoke, Surrey, England, Janet Gardner born 1843 in Lanarkshire, she married James Gardner on 22 Jan 1879 in Dunoon & Kilmun Parish (Not sure if there is a relationship here, maybe cousins).
Matthew Gardner was born Jan 1854 in Lanarkshire – I believe Matthew had a son Thomas (born 1881 in Dunoon) with Christina Turner Wright, born 9 Jan 1866, daughter of Joseph Wright and Janet Turner. Matthew died on 25 Jan 1934 in Ardentinny.
Robert Gardner born 29th. October 1856 in Hutchestown, Glasgow. John Gardner born abt 1838 in Stocke, Surrey, England. John died on 2nd December 1875 in Glenfinart (see Gravestone). Janet Gardner born about 1842 in Stoke, England.
In 1851, The family were living in Leatherhead, Surrey, England. Matthew was a gardener, they had moved to Ayrshire by 1861, again Matthew was a gardener. In 1871, they were residing in Glenfinart, Matthew was still gardening, and in 1881, the family were living in at Rock Cottage, Ardentinny.
It was the son Matthew born in 1854 who became a grocer in 1891 and postmaster in 1901 and presumably he is responsible for publishing the postcards.
With thanks to Janet Gardner Roy.
If anyone has more information on the Gardener's, please contact us.