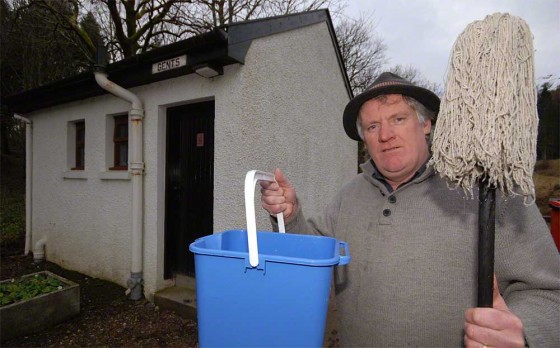 Update 11 Feb: We understand that Ardentinny's loo is safe and that no public conveniences will be closed.
Ardentinny's award-winning public conveniences could be the latest casualty of the current Argyll & Bute Council cutbacks. The immaculate toilets won a 4 star award in the 2004, 2006 and 2007 Loo of the Year Awards.
Community Councillor, Stephen Johnstone informs us that the building is on an Argyll and Bute closure list due to the swingeing cuts soon to be put in place.
Given that the public toilets have remained closed for some time, Stephen asked at the last Community Council meeting when they would be re-opened. This resulted in a response email from local Councillor Bruce Marshall stating that the toilets are on a closure list. He added that he would argue the case for retention but, in view of the desperate financial settlement received by the Council, he was not optimistic that he could save them. He went on to ask if the village could take on the responsibility of keeping the toilets open.
As a result, Stephen is taking his campaign to retain this facility to the village and beyond.
What do you think?
Facilities go down the pan as top toilet faces closure – The Herald