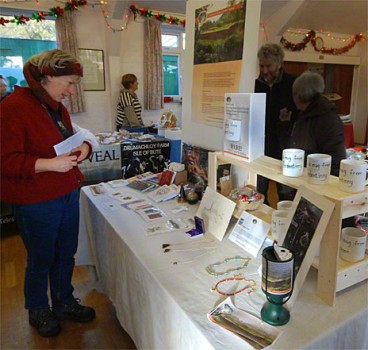 A busy week for members of Ardentinny Trust's Glenfinart Walled Garden committee (see separate story) concluded with a display at Colintraive's Christmas Fair. As usual, the stall had on sale arts and crafts donated by Elizabeth Bruce, Anne McLintock, Anne Hammil and Bill Williamson. Unfortunately, due to space restrictions, they were unable to mount the complete Walled Garden display. However, with a single information panel and information leaflets, they hoped to successfully inform another area of Cowal of the plans for the garden.
The fundraising display relies upon the artists who give of their time and expertise in providing crafts for sale and on the volunteers who staff the events. They very much welcome further craft donations and offers of help from supporters to staff the stand throughout Cowal.  If you are interested, please get in touch.
You can also now donate online to the Glenfinart Walled Garden project here.