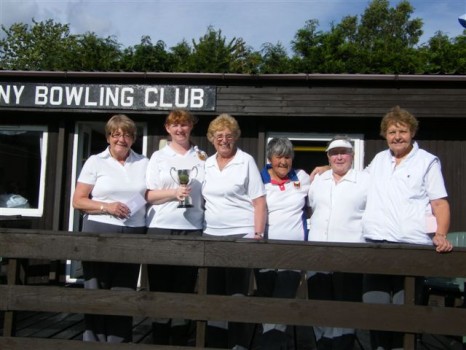 On Sunday 11th July, a day on which the weather forecasters had assured us would be mainly fine with odd shower, ladies from 8 different clubs descended on Ardentinny to compete for the Hamilton Cup.
However the omens didn't bode well as a Gannet which had probably decided it was too rough to fly was sleeping in the car park and stayed there throughout the morning. We don't do mundane diversions at Ardentinny, just unusual stuff. That Gannet knew what it was about as the forecast shower was heavy with gales and lasted for five hours.
Luckily the ladies were hellbent on enjoying themselves whatever the circumstances and passed the time taking part in a Quiz till Lunch was served. The Quiz, incidentally was won by the team from Abercorn,
At 2pm the green became playable and play commenced much to the relief of the committee and no doubt the participants, who were after all there for the Bowling.
After some hard fought but buff sporting games the final was contested by the triples consisting of J. Scott (Leshmahagow), M.Robinson & L.Dempster (Ardentinny) V A.Strachan (Dunoon Argyll), H. Harrison (Abercorn) & M. Weir (Leshmahagow). With the latter triple coming out on top.
The cup was presented on behalf of Tom Hamilton by D.Menzies.
The Committee would like to thank the following. Western Ferries & Tom Hamilton for their continuing sponsorship of the event. All the ladies who participated and showed so much patience in the trying circumstances. President G.Smith for officiating. Everyone who bought raffles and purvey and last but not least all the ladies who worked so hard throughout the day, you were brilliant.
Oh, and just when they thought they wouldn't be named, the boobys were won by M.Lewis (Leshmahagow) M.Beattie (Bogleh'a) & S.Marshall (Ardentinny)
J.Robinson (Secretary)