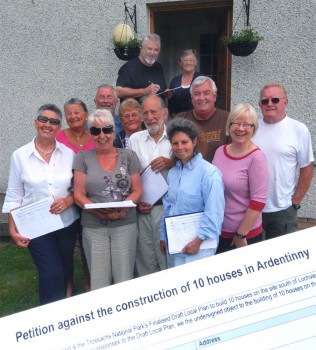 Loch Lomond & The Trossachs National Park Board unanimously accepted the Park Authority's recommendation to remove its Ardentinny housing proposal from the Local Plan. The Plan in its entirety will now go to the Reporter and, depending on the Reporter's decision, it will be adopted or amended accordingly.
This remarkable decision was taken at the Board's meeting at National Park Headquarters in Balloch on the 23 June 2010. It was the culmination of a 17-month-long campaign by local residents in objection to the Park's proposal to build housing south of Lochview in Ardentinny and resulted in the Park Authority's suggestion to make a 'significant change' to the finalised Draft Local Plan. That change being:
'Ardentinny – H2 Site South of Lochview
Considering the number of objections and comments received regarding this site, it is recommended to remove H2 from Schedule 1: Housing Allocations. It is also recommended that the Ardentinny Proposals Map is amended to remove the allocation and the settlement boundary adjusted to follow the A880 road so the site lies outwith the boundary.
It is noted that under Policy HOUS3 New Housing Development Adjacent to Settlements, this site could come forward for development subject to the plan's policies. If in the event that a planning application came forward for housing development on this site, community consultation would be undertaken as set out in the Planning etc. (Scotland) Act 2006.'
(Report NPA/02/2010/06 on the Consultation on the Finalised Draft Local Plan. Stuart Mearns, Forward Planning Manager).
On presenting the Consultation Document on the Finalised Draft Local Plan, Gordon Watson, Director of Planning and Rural Development, explained that the recommendation for change to the Housing Proposal for Ardentinny was due to the large number of objections from residents to the proposal together with the Petition sent to all Board members which recorded a 'significant number of signatories'.
Councillor Bruce Marshall asked if there were any plans to develop housing on another site in Ardentinny. Gordon Watson replied that they had identified other sites for housing in Cowal but not in Ardentinny. Later, Board Member, Russell Bruce asked about the significance of the recommendation to adjust the settlement boundary. Gordon Watson responded by saying that it was necessary to move the site south of Lochview outside the settlement boundary otherwise there would always be a predisposition to use it for the development of housing.
This result is undoubtedly due to the spirit and determination of the Ardentinny community whose resolve and staying power have been exemplary. A record of its campaign and how it evolved can be found at the following pages:
https://ardentinny.org/category/phousing/
http://old.ardentinny.org/community/localplan3.html
http://old.ardentinny.org/community/localplan2.html
http://old.ardentinny.org/community/localplan1.html
Copy of letter which accompanied 96 signature petition to National Park Authority (pdf 70kb).