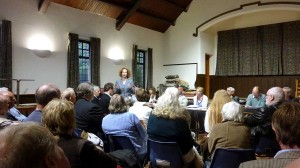 The 70 plus attendees at the Kilmun Community Council's meeting of the 8 June could have been forgiven for thinking they were at the wrong meeting. Many had come along in response to a letter from the KCC, in the local Dunoon Observer, inviting the attendance of anyone interested in the debate as to whether or not Kilmun should remain in the National Park. In addition, it stated that the meeting would also be attended by the Park's CEO and Director of Planning to discuss the benefits of being within the Park.
However, it was made clear by the KCC Convener, Ms Sue Minns, that this was a normal  Community Council Meeting and not a special meeting called to address any particular issue. The agenda had been adjusted slightly to enable Fiona Logan, National Park Authority CEO, to leave early but otherwise it was business as usual, albeit with some input from their NPA guests.
'Business as usual' was nevertheless illuminating. Kilmun Community Council has various important issues of concern in which the Park has involvement to a greater or lesser degree. These include the Finnartmore Housing Development; the proposed Forestry Commission road junction in to Midge Lane; the location of the proposed wind farm; and the proposal to designate Kilmun a conservation area.
From an Ardentinny perspective, there appeared to be two common threads of concern in dealings with the National Park Authority. First, complaints about mixed messages, a lack of and poor communication between the Park and the Community Council.
This also arose at the Ardentinny Public Meeting on the 26th January at which Gordon Watson, Director of Planning and Rural Development, had apologised and said he hoped lessons would be learnt in the way the Park responded to responses and concerns raised by the community. Second, poor consultation procedures and  the apparent disregard for the views expressed by residents in the consultation process.
Despite Fiona Logan's assurances that they wanted to consult and work with communities, not against them, there was an expressed feeling of disbelief. For example, one Ardentinny resident cited the situation where the Ardentinny community had participated in the consultation process, saying where they would like additional housing in the village, only to find that the Park proposes to build them where they specifically don't want them to be built.
While we in Ardentinny are still concerned about the outcome of the Park's proposed housing development south of Lochview which will be decided by the National Park Board on the 23rd of June, we are encouraged to have the  prospect of acquiring the Glenfinart Walled Garden and turning this into an exciting and viable community project.
We wish Kilmun Community Council, and the residents it represents, every success in dealing with the challenges they face.