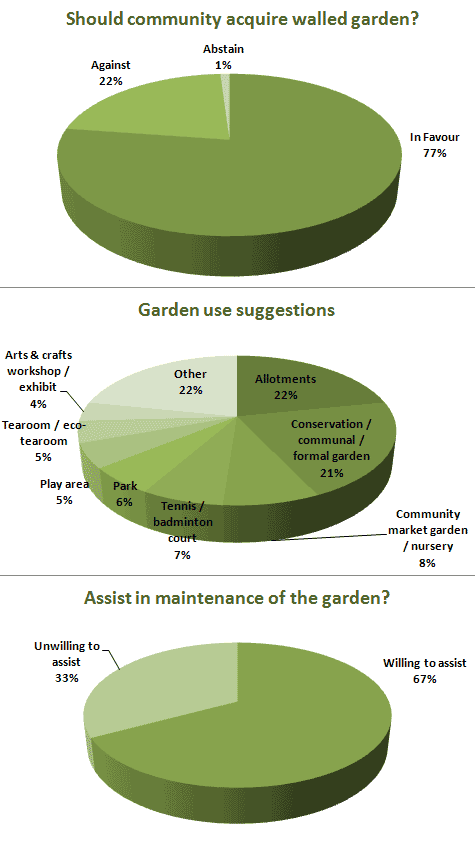 On the instructions of Ardentinny Community Council, the Walled Garden Working Group organised a village survey to ascertain whether or not the majority of the community were in favour of a community purchase of the garden. These are the results.
95 responses were received from residents on the Electoral Roll, of these, 3 were filled in by the 'surveyor' when given the verbal response 'don't know'.  As these may not count, we are going with a working total of 92 responses.
There were also 8 responses from residents who are not on the Electoral Roll.
Of the 92 'countable' responses, 21 are against, with one abstention, and 70 are in favour. Therefore, there is a clear steer from residents that they would like to see the community acquire the Walled Garden.
Of the 70 in favour, 47 said they would be willing to assist in its maintenance.
Suggestions for its use are many and varied but the most popular were allotments (37) and a conservation/communal/formal garden (36), or, a combination of the two.
Other suggestions made were:
Community market garden/nursery (14)
Tennis/badminton court (12)
A park (10)
Play area (9)
Tearoom/eco tearoom (8)
Arts and Crafts workshop/exhibition space (7)
The following are shown as 'other' in the pie chart:
Orchard (3)
Wildlife/ conservation garden (3)
Sports facility (3)
Organic garden (3)
Putting green (3)
Cemetery (3)
Seating area (3)
Special needs provision (2)
Purchase as a private garden (2)
Small wind turbine to provide electricity (2)
Boat storage (2)
Commercial garden (2)
Teenagers/Backpackers' adventure park (2)
Wishing Well (2)
Garden centre (2)
Memorial garden (1)
Victorian garden exhibition (1)
Craft centre (1)
Bowling (1)
Mini golf (1)
Dog training (1)
Nature trail (1)
Swimming/paddling pool (1)
Model boat pond (1)
Bicycle/skateboard park (1)
Community Service hard labour site (1)
Renovation of building by job seekers (1)
Heritage site with historical information (1)
Lease to Actual Reality for garden/biology studies (1)
Holiday adventure activities (1)
Amusement park (1)
Beechgrove Garden community project (1)
New outdoor centre (1)
Backpackers' chalet accommodation (1)
Tourist/emergency helipcopter pad (1)
Historical preservation (1)
Vocational training (1)
Exhibition area (1)
Farmers' markets (1)
Renewable energy via existing water aqueduct (1)
Garden of Remembrance (1)
Community project (1)
Football pitch (1)
Animal space (1)
Composting toilets to be incorporated in any development (1)
There is some obvious overlap with the above suggestions and possibly some less obvious. It would be the task of the architect/s of the Community Walled Garden Business Plan, with perhaps further consultation with 'Friends of the Walled Garden' once a sketch plan was designed, to try and incorporate the wishes of the community in as beneficial and viable a way possible.